Ascentra Anywhere - Digital Banking
Have all your banking at your fingertips and take Ascentra Anywhere! Get the control you expect to manage your finances with a full suite of convenient digital banking services that will have you making all the right money moves!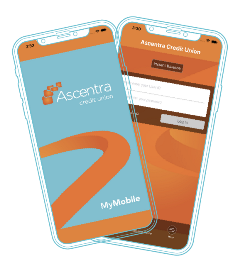 ---
Online Banking
Take Ascentra anywhere you have internet access! Transfer funds, apply for loans, open accounts, sign up for e-Notifications, pay bills with MyBillPay, and so much more. Accounts are also compatible with Quicken and QuickBooks.
MyMobile App
MyMobile gives you fast access to your accounts – you get Ascentra Anywhere! Get just about all the functions offered within Online Banking and even deposit checks with your smartphone. You can also set up Text Banking and custom text alerts. Learn More.


MyBillPay

Enroll in Online Account Access and pay all your bills online or on our app! MyBillPay makes it convenient to pay your bills – or just about anyone else for that matter. Set up MyBillPay to add billers with ease to make payments, recurring payments, and even set up reminders when payments are due or sent. Say goodbye to stamps and avoid late fees!

MyBillPay also has the person-to-person payment service Popmoney, which lets you pay others through text or email for only $1.00.

My$Manager

Get promoted to Household Financial Manager (very impressive). With My$Manager you can quickly manage and view your banking, investments, mortgage, and credit card info all in one place, regardless of where you have your accounts (however, we really hope they are all with us).

Create "tags" to categorize and track your spending, set financial goals, and account alerts.

Digital Wallet

Upgrade your wallet and pay using your Ascentra Visa Debit and Credit Card with your smartphone or smart watch! Digital wallets and mobile payments are the new way to make purchases securely at stores, online, through apps, and are very handy when you misplace your wallet!

Currently you may make purchases with your Ascentra Visa Debit and Credit Card through Apple Pay and Samsung Pay.

Learn More

CardValet
CardValet is an app that allows you to keep an eye on your Ascentra Visa Credit and Debit Card with your smartphone. You can turn your card "off" if you misplace it and turn it back "on" if you realized your card was in your coat pocket the whole time. OPE!
You can also set spending limits for yourself or your children, get alerts anytime your card is used, and more.

Shared Branching
Ascentra is one of over 5,700 locations that make up the CO-OP Shared Branch network. This network is perfect when you're traveling for business or pleasure, have kids or parents out-of-state that need assistance, or if you are relocating – it's like we're still around the corner!
Check out our Branch Locator to find a shared branch near you or download the CO-OP ATM/Shared Branch Locator App.
Become a Member
Dec 30, 2019, 11:31 AM
Heading :
Become a Member
Related page text :
Learn More
If you're looking for a financial that gives back, has your best interest at heart AND has an awesome rap song, then look no further! At Ascentra Credit Union our motto is listening, caring, doing what's right, and we live out our daily lives doing just that. Join us and let us show you how a HIP credit union does business. #HeyItsAscentra