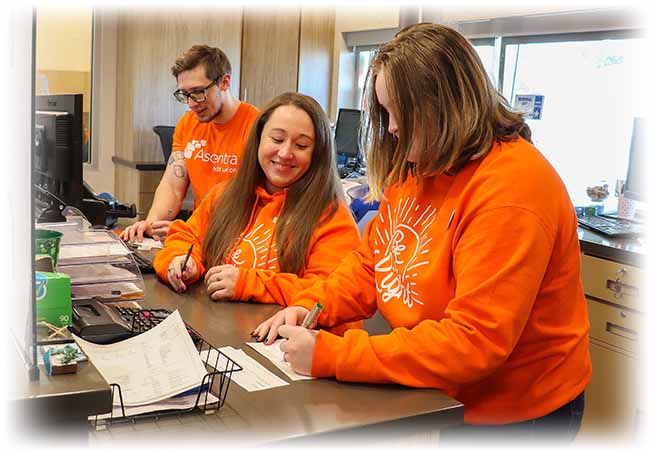 The Ascentra Difference

Want to love where you work and end the day feeling like you made a difference in the lives of others? That's just what you'll get at Ascentra Credit Union – we are a fun-loving team that takes "Listening, caring, doing what's right" seriously. Whether it's making a difference in the lives of our members, our community or one another – you will feel the Ascentra difference as soon as you walk through the doors.
Benefits

PTO
Employees earn over 18 days off and 8-10 paid holidays in the first of the year.

Retirement Plans
Fully funded retirement plan 401(k) matches, 50% per dollar contributed up to 6% of the employee's wages. Plus up to an additional 3% of profit sharing.

Medical, Dental and Vision Coverage
We pay 50-80% of the plan premium depending on the plan and coverage level selected.

Extra Perks


Personal Assistance Program
Paid Volunteer Opportunities

Additional
Coverage

Wellness
Program
Our Culture
Our culture is centered on our listening, caring, doing what's right philosophy. As a credit union started by hard-working individuals who put in long hours trying to improve their lives and the lives of others, Ascentra never forgets our roots and where we started.
Just like in our humble beginning, Ascentra is still all about people helping people - the core belief of the credit union movement. With down-to-earth staff with a heart for helping others, Ascentra's culture centers around relationships and making a difference in the lives of others; co-workers, our members and our community. Our culture balances on four pillars - our staff, our members, our community, and our financial stability – all which that define why we exist, who we are, and what we value.

Ascentra's Seven Cultural Beliefs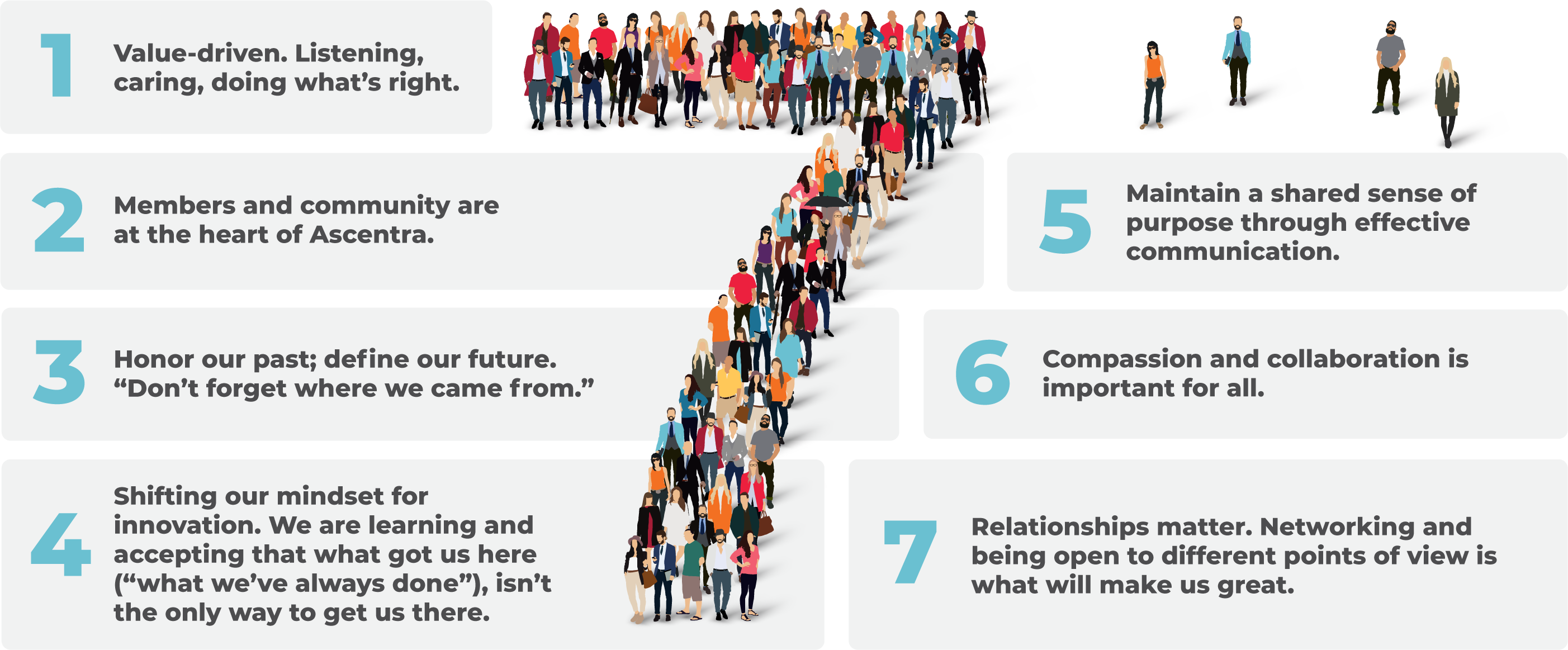 Culture is so important at Ascentra it's interwoven in everything we do. It's experienced, evolved, and celebrated by all. Wanting to be intentional about our culture and ensure its vitality, we empowered a Culture Committee made up of staff from a broad base of positions and tenure that continually evaluate, improve, and ensure the vitality of our culture, and works to make it even better.

Current Openings
Yram - Head Teller

"The thing I love the most about working for Ascentra is that everyone genuinely cares about each other and everyone works together as a team. It doesn't matter what branch you are at, there is always someone willing to help and provide their knowledge and experience to help you achieve your goals"

Jon - Asset Recovery Specialist

"There are many things I enjoy about working at Ascentra. I would say the top items would be the sense of family in my department, the empowerment that is communicated from management to all the employees, and the fact that we do our best to keep our member's best interest at the heart of what we do"

Sheri - Credit Analyst

"Ascentra promotes a positive work/life balance with a strong focus on their employees, all while taking care of their members. Working at Ascentra constantly provides me with opportunities to grow professionally and personally. Coming to work here is the best choice I made in my career. I love that Ascentra truly follows their mission of Listening, Caring, and Doing what's right for their members and employees."