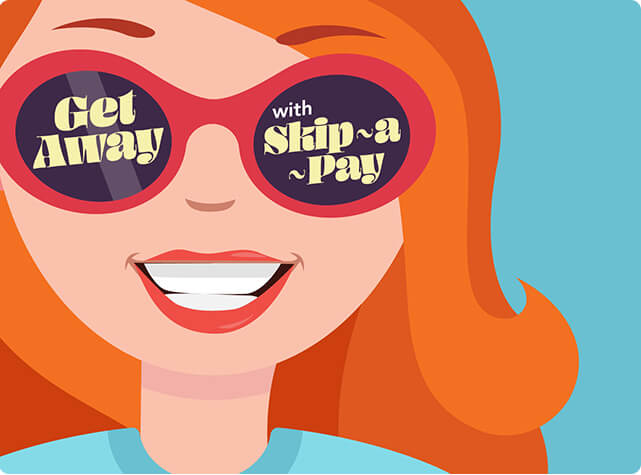 Financial Relief
Wouldn't it be nice to take a break from your loan payment? With Ascentra's Skip-A-Payment you can do just that!

If you're a member in good standing with Ascentra Credit Union, you may skip a loan payment due any time of the year. No pre-approval is necessary to take advantage of this offer, but you must submit the form at least 10 days prior to your usual loan payment due date – so plan in advance to allow time for processing your request.

A processing fee of $30 per loan will be assessed, and interest will continue to accrue on your unpaid loan balance, which may extend the maturity date of your loan.

This program is a great way to potentially ease your monthly budget.
---
Fill Out the Form Below to Get Started
Thanks for filling out our form. If you have any questions, you can reach out to our Member Solutions department at 563-355-0152 ext 285.
---
---
---
Please provide the Ascentra account # that the processing fee should be withdrawn from
I understand that interest will continue to accrue on the loan and that skipping a loan payment may extend the term of my loan.
Either Borrower

or

Co-Borrower's Signature is accepted.
Please type the Borrower's name as it appears on the account.
Please type the Borrower's name as it appears on the account.
*Offer excludes Visa Credit Cards, any other open-end lines of credit, or any loan secured by a dwelling. A $30 processing fee per loan covers all payment frequencies (maximum of 4 weekly, 2 bi-weekly, 2 semi-monthly, or 1 monthly) for a 30 day period.
Please submit form at least 10 days before the loan due date for processing.
Maximum of two non-consecutive skip-a-pays are allowed per eligible loan per calendar year. Maximum of 6 skip-a-pays per life of loan and not eligible for consecutive 30 day periods. First month's payment must be satisfied for new loans to be eligible. Skip-a-pays are not eligible in conjunction with loan extensions or delinquent/past due loans. If you have GAP Protection, any amount of the loan that is skipped may not be covered under the GAP Protection policy. All title issues must be resolved prior to processing(this includes loans not being skipped). Other restrictions may apply.
---
Credit Card

No hidden fees. No surprises. No hassle. With the Ascentra Credit Card, what you see is what you get, which includes no annual fee, no balance transfer fee, AND low rates. We call that a win!

Personal Loans

Unsecured line of credit. Share-Secured loan. Personal/signature loan. They may have different names, but they all have one thing in common. These are financially safe and responsible ways to build or establish credit and can help keep you afloat until payday. Most importantly, they help you save some serious cash.

Ascentra Anywhere

Ascentra Anywhere allows you to do all your banking with the click of a button or tap of your finger. This includes our Mobile App, Pay Bills, Financial Tools, Digital Wallets, and Mobile Payments. It's banking made easy, anywhere!