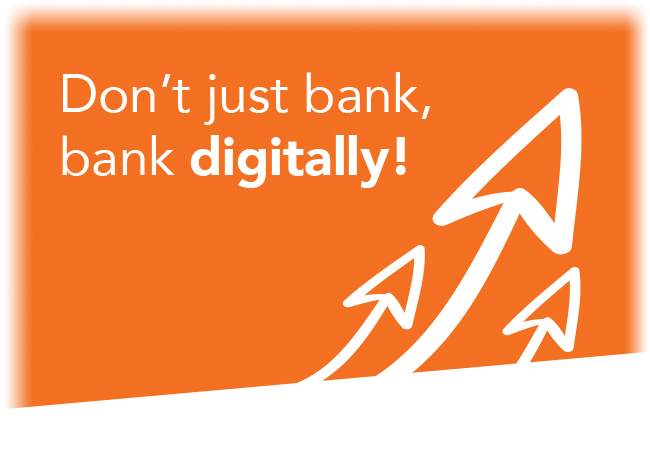 Digital Banking
Have your finances at your fingertips, with Ascentra Digital Banking. Get access to Ascentra anytime, anywhere with the same user experience on a desktop browser and mobile app.
Make all the right money moves!
> Get help via chat.
> Monitor your credit score and get your credit report.
> Transfer funds between accounts, member-to-member, or to external accounts.
> Pay bills and setup alerts.
> Apply for a credit card, personal, auto, and mortgage loans.
> Bank in English or Spanish.
> Compatible with Quicken and QuickBooks.
Once you establish membership, you can enroll for digital banking using the Ascentra Mobile App. Not a member? Join today!
---
Getting Started with Digital Banking
The Ascentra CU Mobile App
The Ascentra CU Mobile App gives you fast access to your accounts – you get Ascentra Anywhere! You can enjoy the same features we offer within Digital Banking on a desktop, right from your phone! You can even deposit checks with your smartphone.





After you've enrolled, make sure you know how to make the most out of your digital banking experience by following our
checklist
.
Financial Tools

Your data should work for you, not the other way around. Financial Tools can show you the big picture of your finances—even your accounts outside of Ascentra Credit Union.

Financial Tools takes the work out of staying on top of your finances. Make sense of your transaction history and see the categories where you spend the most money.

SavvyMoney

Keep an eye on credit score and credit report changes with real time credit monitoring with

SavvyMoney

, a free service available to our Digital Banking users.

You can also use this tool to qualify for the best rates on new loans, credit cards or to save money by refinancing (based on your credit score).

But wait…it gets better! SavvyMoney can help you simulate your future credit score based on certain actions. If you've ever wondered how paying off debt or applying for a loan would affect your score, we can show you!
Mobile Check Deposit

Mobile Check Deposit

is a feature on Ascentra's Mobile App that is designed to make it easy and convenient to deposit checks anywhere, anytime from your camera enabled smartphone or tablet into your personal checking account or your business checking account.

You can manage both personal and business accounts with one app by simply logging into the designated account you want to manage.

Bill Pay

Enroll in Digital Banking and pay all your bills online or on our app! Bill Pay makes it convenient to pay your bills – or just about anyone else for that matter.

Set up Bill Pay to add billers with ease to make payments, recurring payments, and even set up reminders when payments are due or sent. Say goodbye to stamps and avoid late fees!


CardValet
CardValet is an app that allows you to keep an eye on your Ascentra Visa Credit and Debit Card with your smartphone. You can turn your card "off" if you misplace it and turn it back "on" if you realized your card was in your coat pocket the whole time. Don't worry, it happens to the best of us.
You can also set spending limits for yourself or your children, get alerts anytime your card is used, and more. It's time to take control of your finances with Card Valet.

Shared Branching
Ascentra is one of over 5,700 locations that make up the CO-OP Shared Branch network. This network is perfect when you're traveling for business or pleasure, have kids or parents out-of-state that need assistance, or if you are relocating – it's like we're still around the corner!

Check out our Branch Locator to find a shared branch near you or download the CO-OP ATM/Shared Branch Locator App.
Digital Wallet
Upgrade your wallet and pay using your Ascentra Visa Debit and Credit Card with your smartphone or smart watch! Digital wallets and mobile payments are the new way to make purchases securely at stores, online, through apps, and are very handy when you misplace your wallet!

Currently you may make purchases with your Ascentra Visa Debit and Credit Card through Apple Pay and Samsung Pay.
Learn More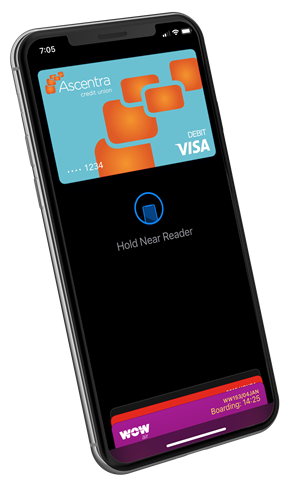 FAQ's
Credit Card

No hidden fees. No surprises. No hassle. With the Ascentra Credit Card, what you see is what you get, which includes no annual fee, no balance transfer fee, AND low rates. We call that a win!

Checking Accounts

Whether you're looking for a rewards program, no service charges, or overdraft protection, we have a checking account that fits your needs.

Become a Member

If you're looking for a financial that gives back, has your best interest at heart AND has an awesome rap song, then look no further! At Ascentra Credit Union our motto is listening, caring, doing what's right, and we live out our daily lives doing just that. Join us and let us show you how a HIP credit union does business. #HeyItsAscentra