Check Selfie!
Mobile Check Deposit makes it easy and convenient to deposit checks anywhere, anytime from your camera enabled smartphone or iPad into your checking account.
Mobile deposit will be automatically enabled in your mobile app for checking accounts in good standing, with a valid e-Mail address on file.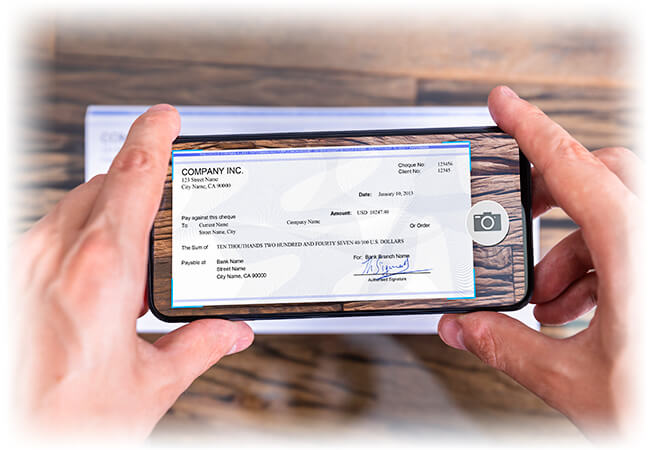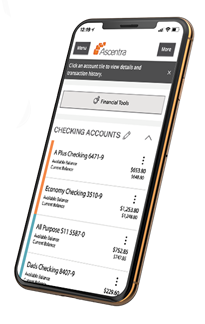 Making a Mobile Check Deposit
Make sure the name that the check is written to is on the account.
Endorse the check with your signature and write in "For Mobile Deposit at Ascentra CU Only". (Note: some checks have a pre-printed checkbox with the words "Mobile Deposit Only" on the back - even if you select this, you are required to write "For Mobile Deposit at Ascentra CU Only".)
Open the Ascentra Mobile App, select "Transactions", then "Deposit Check". You can also access this service by clicking on the quick link "More" and then "Deposit Check".
Temporarily store the original check in a safe place.
Rules and Deposit Timing (all times mentioned are Central Standard Time)
After you have successfully deposited a check, its status will be "Submitted" until it is reviewed. You will also receive a confirmation email with further information.
Our daily cutoff time for accepting mobile deposits is 3:00 pm Monday through Friday, excluding federal holidays. Deposit items that we receive after 3:00 pm, or on non-business days, will be processed on the next business day (Monday through Friday, excluding federal holidays). If your check is accepted before our daily cutoff time of 3:00 pm (mentioned above) it will usually be deposited into your account between 4:00 pm and 6:00 pm that day.
Most checks are eligible for mobile deposit except for the following types:
Checks payable to any person other than you.
Checks payable to you jointly with one or more other persons, unless deposited into an account in the name of all payees.
Checks that have been previously negotiated (including checks that may have been returned), remotely created, Sight Drafts, or checks more than 6 months old (stale dated).
Checks drawn on a financial institution located outside the United States or not in United States currency.
Checks or items on which you are aware that a stop payment order has been issued or for which there are insufficient funds.
Vehicle Loan

We know our members personally and grant loans accordingly. Not only can you get a loan quickly and easily, but you will also receive a team of coaches and cheerleaders dedicated to your financial well-being. With Ascentra you can borrow smart and celebrate life with a new RV, 4-wheeler, boat, motorcycle, whatever your heart desires.

Credit Card

No hidden fees. No surprises. No hassle. With the Ascentra Credit Card, what you see is what you get, which includes no annual fee, no balance transfer fee, AND low rates. We call that a win!

uChoose Rewards

We know there are hundreds of cards with thousands of reward options to choose from. At Ascentra, we take rewards to the next level with the ONLY program that combines rewards points from your Ascentra debit AND credit card purchases. In addition, we also offer promotions throughout the year that gives double rewards, such as back-to-school and Black Friday!