People Helping People
Credit Unions were created to provide a socially responsible way of banking. As not-for-profit cooperatives, we exist to serve members rather than to maximize corporate profits.
As member-owned financial institutions, we provide a safe place to save and borrow at reasonable rates all while investing in our communities and returning our profits to our members.
Over the past two decades, large national banks have merged in countless locally-controlled community banks, taking profits and jobs out of our community. It just makes sense for consumers to take ownership in their financial institution by joining a local member-owned credit union.
Support a movement that gives financial choice back to consumers, join a credit union today! Join Ascentra!
Giving Back
Does your bank give back to your community? No? We didn't think so. Credit unions on the other hand, live their philosophy of People Helping People everyday through bettering their communities. This could be through buying people's groceries, building a Habitat for Humanity House or just buying someone's morning pick me up. Check out some of the exciting things we've gotten to do on our Giving Back page!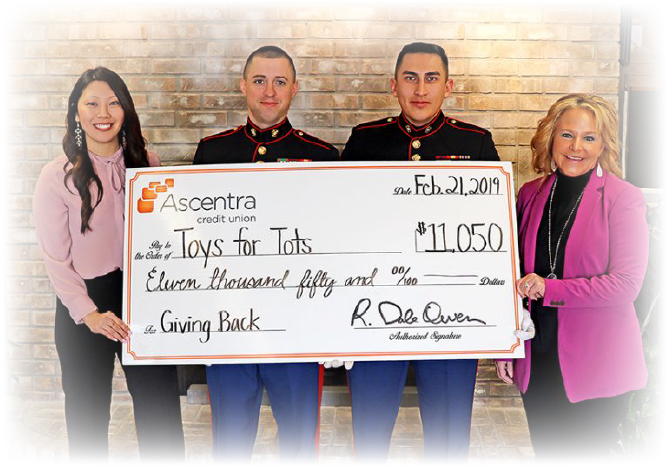 ---
Banks
While banks and credit unions offer the same financial products and services, the purpose of these financial institutions could not be any more different.
Banks are for-profit businesses with the objective of making profit - usually at the customers' expense.
The profits then go to the shareholders who own the bank.
Major decisions are made by the board of directors who are appointed by shareholders.
They are usually paid to serve and are not required to be customers of the bank.
Credit Unions
Credit Unions are not-for-profit cooperatives which return profits to members in the form of lower fees, lower interest rates on loans, and higher returns on savings.
Credit unions have volunteer boards of directors who are credit union members elected by other members.
This gives everyone a voice on the direction of the organization. Credit unions are locally based, consistently rated higher than banks in customer service and are very involved in local communities.
Founded on the "People Helping People" philosophy, credit unions are here to save people money.

Become an Advocate!
Credit union members are stronger together. There are more than 1 million credit union members in Iowa, and by acting together, we can have a powerful impact on policy that affects our financial lives.

We need your voice! Sign up Today!

Why Be a Credit Union Advocate?
Because our voices are stronger together.

While you benefit from the tax status of not-for-profit credit unions, bankers see this as an inconvenience that gets in the way of their profits. The mere presence of credit unions provides consumers a choice that forces banks to keep their products and services at reasonable prices.

The banks don't like this and are putting their profits over consumer choice by spreading misinformation about our federal tax status. Let's keep them honest, and send the message that credit unions are truly putting people over profits.

Take action; become a credit union advocate, keep your choice as a consumer and tell the "banksters" that you are standing along side your credit union. To learn how we are fighting for your financial well-being at the state and federal level visit the Iowa Credit Unions' Growing Iowa Communities webpage.