Helpful Measures to COVID-19 Response Efforts
As we are all adapting to the ever-evolving circumstances brought on by COVID-19, I'd like to reassure you that our top priority is the well-being of our members, our staff, and the communities we serve. For this reason we have taken certain measures to ensure that we are providing you access to your financial needs while adhering to practices that keep us all safe.
We are also making things a little easier with financial relief efforts that can lessen hardships caused by this pandemic. Credit unions were created as a direct response to challenging times, this time it's no different - we will be here for you in your time of need. We appreciate your faith in our credit union as we navigate through these dynamic times together.
Cooperatively,
Dale Owen,
President and CEO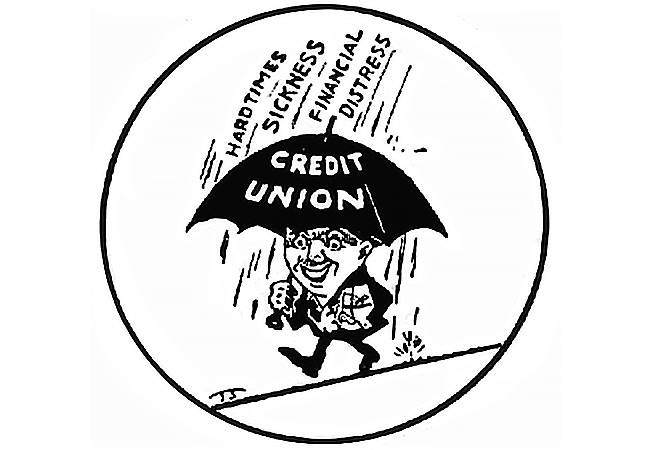 Moving Forward Together
We are regularly evaluating information from the CDC and local health agencies to ensure that members can safely visit our branches.
We will be monitoring our symptoms and exposure and ask for you to do the same. If you have a fever, exhibit flu-like symptoms or symptoms associated with COVID-19, or if there is a possibility you have been exposed to COVID-19, please stay home and call into our Digital Branch for assistance at 563-355-0152 ext. 0.


When you visit a branch, we want you to know what you can expect.
Know that we are in this together! We are moving forward together!
The number of members allowed in the lobbies at one time will be limited. Staff will be here not only to welcome you back, but to help monitor capacity levels.
Members will be asked to maintain social distancing and stand at least six feet apart from others. Distance markers have been placed on the floors to help with this when in line to see a teller.
We have installed plexiglass hygiene guards in our branches for both your health and safety as well as ours. You may see our staff wearing facemasks especially when they have to venture outside of the plexiglass hygiene guards and are not able to maintain 6ft of social distancing.
Although not required, member facemasks are suggested especially for those that may be of high risk. Please understand if we ask you to tip your mask for identification purposes.
We will continue to follow added safety and sanitization procedures at our branches and ATMs and will have hand sanitizer available throughout our branches.
For added safety measures, coffee service, popcorn, candy, dog treats, magazines, children's toys, interactive displays and member use computers will be temporarily suspended.
As much as it pains us we will have to refrain from social greetings such as handshakes, fist bumps, and/or hugs. Please know a smile and a thank you always means we appreciate you as a member and your business.
We encourage our members to continue to use our
digital banking services
, ATMs or call our Digital Branch for assistance at 563-355-0152 ext. 0.
As we move forward together, please know the health and safety of our staff and members is our number one priority and has guided the safety decisions we have made as we reopen our branches to you, our members.
Here for You - Ascentra Anywhere
Through digital banking, you can pay bills, transfer funds, open accounts, set up text banking and alerts - all from home.
Need to deposit a check? Mobile Check Deposit through the Ascentra Mobile App lets you skip that trip to the credit union.
Set up your Ascentra Visa Debit and Credit Card with your digital wallet such as Apple Pay or Samsung Pay so that you can make purchases through contactless payment terminals with your smartphone or smartwatch and reduce your risk.
You can also apply for loans or become a member, completing the whole process digitally with an electronic signature.
We understand every member has a different need, and our staff will go out of their way to help you in any way they can. If you are experiencing financial hardship, reach out to us to see how we can help at 563-355-0152 ext 0.
You can also receive assistance from an Ascentra Team Member during business hours through our new chat feature by clicking the "Let's Talk" button in the bottom right hand corner of the screen.
SARA Teleservice is an automated phone banking service you can use by calling the credit union at 563-355-0152.
Financial Relief for You
It may be hard to determine which financial relief options are best for you. That's why we are here! As your financial partner, we want to personally work with you to determine how we can help your unique situation. To go through our relief options below and determine how we can best help you, call 563-355-0152 ext 0.


Loan Extensions - Extensions can be used on qualifying loans where you and Ascentra agree to postpone monthly payments.
Mortgage Forbearance - Temporarily suspends your monthly mortgage payments for a specific time while you are experiencing financial hardship.
Emergency Loan - Up to $5,000 for 36 months, no payments for 60 days, with an interest rate as low as 2.99% APR. Rate based on credit approval. Limited time offer.
Auto Loans – No payment for 60 days on all auto loan terms, use code NP60 when applying. Interest rates as low as 2.50% APR*on 60-month terms only. *APR = Annual Percentage Rate. Rate based on approved credit. Current rate as low as 2.50% APR for 60 months on 2019 or newer vehicle, includes automatic payment rate discount. Rate subject to change. Limited time offer. The first payment will be applied to the interest accrued from the date the loan was funded and then remaining funds to the principal. Example payment $25,000 auto loan with the term of 60 months and a fixed rate of 2.50% APR would result in a monthly payment of $443.90.
Here for our Community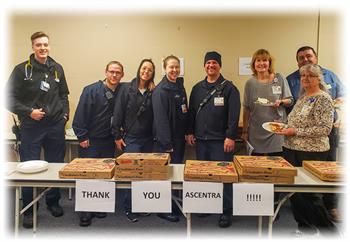 To help with local efforts, the Ascentra Credit Union Foundation has donated $10,000 to the Quad Cities Disaster Recovery Fund that will first focus on disproportionately affected communities by addressing the economic impact of reduced and lost work already resulting from the pandemic, immediate needs of vulnerable populations caused by pandemic-related closures, and the increased demand for medical information and support.
You too can help and donate to the Quad Cities Recovery Fund.
The Ascentra Credit Union Foundation also donated $10,000 to the Iowa Credit Union Foundation's Emergency Relief Fund. Together with other credit unions and donors, the fund has allocated $550,000 to be used to help credit union members affected by the COVID-19 situation.
You too can be a part of the movement and donate to the Iowa Credit Union Foundation Emergency Relief Fund.
Ascentra is also taking steps to help unite and bring comfort to our communities with simple acts of kindness that support local businesses, individuals in quarantine, and health care workers.
Follow our Facebook page for more feel-good content.
Beware of Scams
Throughout the COVID-19 pandemic, fraudsters around the country have been calling people appearing as their financial institution and asking for personal and digital banking information. Learn other ways on how you can protect yourself here.
Get early fraud text notices or add another layer of control and notifications by downloading the CardValet App.
Resources