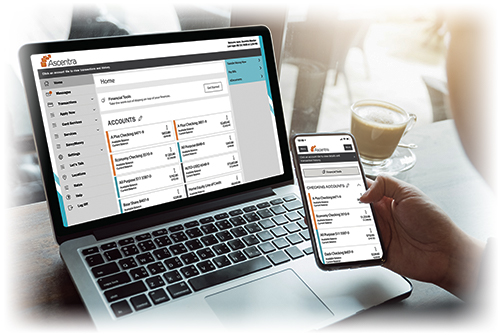 Okay, okay, you want to know what it means when we say that "Digital Banking Just Got Lit". We understand, it's a bold statement to make. We had to say it though because we just made some bold changes to your digital banking experience. That's right, it's not just another online or mobile account access service. It's a complete digital banking experience!

There's no other like it. This new experience brings you a complete, comprehensive look at your finances, no matter where you are, no matter what device you are looking at it on. It's a whole new concept to managing your money!

Although there are many new products and options integrated, we want you to know about a few key life changing, mind blowing, epic features that you simply will not be able to live without.
Check this out! You can easily view ALL your accounts within the new platform. This means that you can link information from other financial institutions, such as checking/savings accounts, credit cards, retirement accounts and other investments. See your financial portfolio in one, at-a-glance view for better management. No more opening multiple tabs to see all of your accounts. Just one screen… all your accounts!
It gets better! We call this a digital banking experience because that's really what it is. No longer are the days where you had different options based on the platform you are accessing your accounts with. Our digital banking provides you with all the options, in the exact same view and format, regardless of the device. It's the same on desktop as it is mobile, it's the same on mobile as it is tablet, it's the same on tablet as it is on desktop… exactly the same, no matter where you are at. The only exception is mobile check deposit. It's obviously on mobile and tablet only!
It just keeps going! New features and options will make managing your finances and investments a breeze. We have even incorporated services like SavvyMoney, a feature that adds credit monitoring to your digital banking. It gives you access to your soft credit score, explains how your score is determined, gives you tips on how to increase your score, then suggests good options for credit cards and loans for your level of credit. It's a one stop shop for all your financial needs.
There's so much more! You can now re-order checks from your app, there's online chat available right in mobile banking, change the language to Spanish, access your uChoose Rewards account, view your statement, and make transfers to other members or accounts at other financials. On top of that, you still have the great features from before such as bill pay, alerts and applying for loans.

Don't just take our word for it though, check out all the continued and new goodies yourself. This new digital banking experience launched Sept. 23. Visit ascentra.org/upgrade, and if you are an active user of our online banking, just follow the simple migration process, and log in. There are FAQs and video tutorials to guide you through the details.

Now that you understand the "Lit-factor" of this new digital banking experience, go on and take your financial management to a whole new level.