LISTENING, Caring, Doing What's Right! - Member Surveys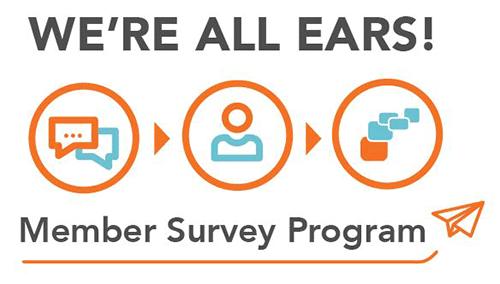 As a member of Ascentra Credit Union, you've heard our motto of Listening, Caring, Doing What's Right ever since the late Paul Lensmeyer (CEO 1993 – 2013) created it when the credit union changed its name to Ascentra in 2007. Since then, this motto has been the foundation of our passion to make a difference in our members' lives and to support the communities that Ascentra calls home. It also coincides with the People Helping People philosophy that the credit union industry is founded upon.
At Ascentra, we feel that LISTENING is the most important thing we can do. Whether it's listening to our members and providing the financial products and services they need to help live a healthy financial life or listening to our community and supporting the critical needs to grow and prosper, we've done this, and will continue to do so!
A member survey program helps us enrich our commitment to listening to you. Beginning in November 2023, we started asking our members about their experiences and interactions with our staff, products, and services at Ascentra through an online survey. This robust program not only gathers the information we need to continue serving you to the best of our abilities, but also is intuitive enough to respectively control the number of invites you receive. Our goal through this is simply to give you an opportunity to tell us how we are doing! Your feedback will be used to help determine how we can make your experience more pleasant and efficient when visiting us in-branch or online and help us determine new product and service offerings that you may be interested in.
An invitation to take this online survey will come to you via email. If you've already provided your email to us, then you will automatically receive an invitation. If you have not provided your email but would like to receive an invitation, contact our Digital Branch at (563) 355-0152 or through online chat at ascentra.org to update your information. This online member survey takes less than five minutes to complete.
Also know that during this survey process, the protection of your personal and/or account information is paramount! Neither Ascentra nor our highly secure survey partners will ever ask you for your personal or account information.
As always, your satisfaction is important to us, and we thank you in advance for your participation in this survey. It's another step to assure us that you, our member, are receiving the best care possible and we look forward to your input!
And of course, thank you for being a member of Ascentra Credit Union.