Ascentra Credit Union Wins Four CUNA Diamond Awards in 2023 Competition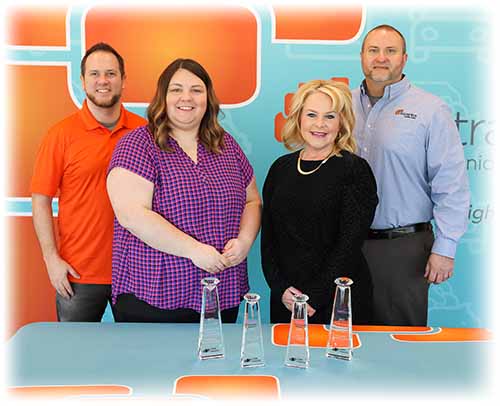 Bettendorf, Iowa – Ascentra Credit Union was awarded four Diamond Awards by the Credit Union National Association (CUNA) in recognition for outstanding marketing and business development achievements in the credit union industry.
In 2022, Ascentra completed a 24-month long System Upgrade project that renewed the credit union's main database and operations system. Although this project required long hours and some weekends for the last seven months of the project, it was completed on-schedule with great results. This project earned three Diamond Awards in the following categories.
Direct Mail – Single or Series – Category's Best for a mail piece sent to all members which described the schedule, details and impact of the project and how it would affect the members during the weekend it was being launched from July 29 – Aug. 2, 2022.
Internal Marketing Recognition/Incentive Campaign - Category's Best for the robust employee moral program implemented for all staff throughout the course of the project.
Point of Sale Display & Retail Merchandising – Diamond Award for the promotional efforts created to make sure all 42,000+ members were well informed of the upcoming System Upgrade and how it would impact their accounts, transactions and how the schedule of the upgrade would impact them.
The fourth Diamond Award was in the Video Non-Commercial Series category for Ascentra's Real Life. Real Hope campaign that is focused on reaching the underserved and low-income residents of our communities offering obtainable banking and loan products and services. This series of four videos started with a theme of "I just needed…" and featured four members of Ascentra Credit Union that ended the theme's sentence. They were "I just needed… to build my credit", "I just needed… someone to give me a chance", "I just needed… to get away from payday lenders" and "I just needed… someone to give me a loan".
"These awards were earned by every employee and member of Ascentra," said Jennifer Naeve, Senior Vice President and Chief Marketing Officer, Ascentra Credit Union. "Our System Upgrade required significant effort from every one of our employees with a full understanding and high level of patience from our more than 42,000 dedicated members that trust us with their finances every day. I am proud that all involved worked together to successfully promote, communicate and complete the credit union's largest project to date".
The awards were presented by the CUNA Marketing & Business Development Council, a national network comprised of more than 1,200 credit union marketing and business development professionals. Judges evaluated entries based on strategy, design, production, creative concept, copy, communications, and results. This year's Diamond Awards competition received 1,246 entries – In total, 159 credit unions received awards, 91 Category's Best and 244 Diamond Awards.
"The Diamond Awards showcase the best of the best in credit union marketing and business development initiatives," said Marella Nardotti, Diamond Awards chair and chief marketing officer at NextMark Credit Union. "They recognize innovation and creativity, while tying in impact on organizational profitability, growth, and brand awareness."
###
Photo Caption: Ascentra Credit Union earned four Diamond Awards in recognition for outstanding marketing and business development achievements for their 2022 marketing campaigns. Marketing staff shown in picture (left to right) are Travis Kershaw, Graphics Designer; Lindsey Osborne, Marketing Specialist; Jennifer Naeve, SVP and Chief Marketing Officer and Barry Shaw, Marketing Manager (not shown is Sarah O'Brien, Digital Marketing Specialist).