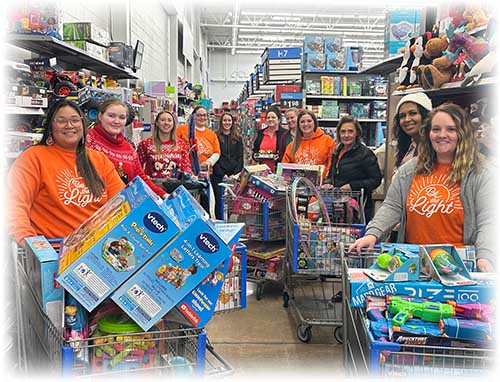 Each year, Team Ascentra takes multiple opportunities to celebrate the holidays with our communities. Below are some of the events and initiatives we joined this past holiday season.
TMBC at the Lincoln Center approached Ascentra to help raise food to fill 50 food boxes of Thanksgiving preparations for residents surrounding their building. Ascentra provided the turkey, ham, milk, butter and rolls and our staff and community collected and donated canned and boxed goods to complete the meal.
Through an in-branch bake sale and employee casual day, Ascentra staff raised $2,975.60 for toy purchases this year. Our Employee Social Committee used the money to buy toys to donate to The U.S. Marine Corps Toys for Tots and Clinton's Scott for Tots programs.
Muscatine branch staff and Jumpin' George stopped by Muscatine's annual holiday stroll to share candy canes and cookies with our members and the community.
Team Ascentra joined the LeClaire Community in celebrating the holidays by hosting a photo booth during their annual Ugly Sweater 5K Run on Saturday, Dec. 3rd. The result was certainly "ugly" but fun was had by all!
Ascentra President and CEO, Linda Andry joined the Salvation Army of the Quad Cities in kicking off their annual Red Kettle Campaign on Nov. 4th in Davenport. The local Salvation Army had a goal of reaching $770,000 in 2022. Ascentra's Ride 50 auto promotion significantly contributed to reaching their goal.
Team Ascentra was out "ringing the bell" for the Salvation Army this holiday season in hopes of helping them reach their annual goal.