Team Ascentra Cleans Up Bettendorf Riverfront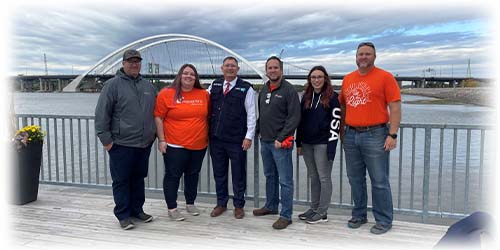 On October 15, Team Ascentra joined Bettendorf officials, as part of the
Mississippi River Plastic Pollution Initiative
to clean up Leach Park.
Under the leadership of the
Mississippi River Cities and Towns Initiative
(MRCTI), the mayors of the Mississippi River in partnership with the
United Nations Environment Programme
, and the University of Georgia have launched an initiative to combat plastic pollution along one of the world's greatest waterways.
Individuals and groups are encouraged to download the Marine Debris Tracker on your smart phone through the Apple App Store or Google Play Store. This app is designed to help citizen scientists track and contribute data on plastic pollution by giving you parcels of land to choose from and then track the debris collected during your clean up.
In just one hour the Ascentra Team collected multiple bags of debris along a quarter mile stretch of the Bettendorf river front and contributed to the tracking program with help from employees of the City of Bettendorf's public works and Ryan Jantzi from the Downtown Bettendorf Organization.
For more information on the Marine Debris Tracker and how you can get started visit
debristracker.org
.