Ascentra Partners with Local Salvation Army to Spread Awareness and Raise Money for Red Kettle Campaign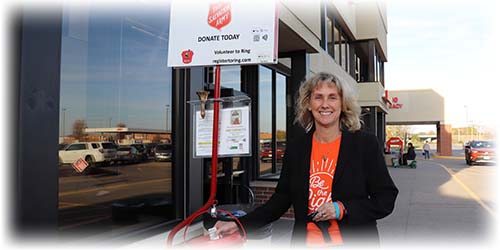 Bettendorf, Iowa
– Across our communities, people are feeling the ongoing impact of the pandemic through hunger, piling bills and job and income loss. This is forcing many to make difficult decisions between their basic needs and the reality of being or becoming homeless.
According to the Salvation Army, in 2020, 8 million people fell into poverty, which is the most on record. 63% of Americans have been living paycheck to paycheck since the beginning of the pandemic including 20 million people whose family don't have enough to eat. In addition, more than 62.6 million people are having difficulty paying bills and more than 7 million people are behind on rent.
"The pandemic has created a crisis unlike any we've ever seen," said Jennifer Naeve, Senior Vice President, Chief Marketing Officer, Ascentra Credit Union. "The Salvation Army is providing services to our local communities to help reduce these numbers and we are partnering with them to help by raising money through our RIDE 50 holiday auto loan promotion."
Ascentra's President and CEO, Linda Andry, joined local dignitaries on Friday, November 5, during the Salvation Army's Red Kettle Campaign Kickoff to drop an initial donation into the red kettle. "We are excited to be a part of this event and to help the Salvation Army collect funds to help combat homelessness in our local communities," said Andry.
Ascentra's RIDE 50 holiday auto loan promotion is putting spending dollars in the pockets of their members and money in the kettle by giving $50 cash to borrowers and donating $50 to the Salvation Army for every approved auto loan during the months of October, November and December 2021. All funds raised through this promotion will be kept within the community that the borrower indicates. In 2019, this promotion raised more than $12,400 for the Salvation Army that was distributed between the Clinton, Muscatine and Quad City Corps.
For more information about Ascentra's partnership with the Salvation Army and the Ride 50 auto loan, visit
ascentra.org/together
.