2021 Ascentra Credit Union Board of Directors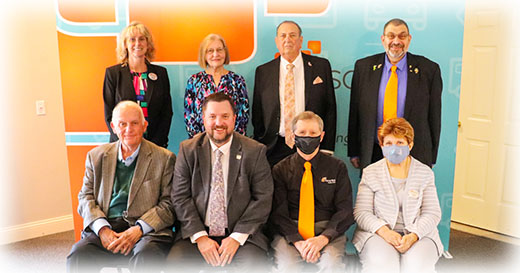 By: Linda Andry, President & CEO, Ascentra Credit Union
The 72nd annual meeting for Ascentra Credit Union was held on April 20 at Tanglewood Pavilion in Bettendorf, Iowa. Members in attendance listened to reports of the Audit Committee, Credit Committee, Treasurer, the Board Chair, and the CEO. The annual meeting is also when board members with expiring terms are up for re-election to continue their service to Ascentra Credit Union. Congratulations to Greg Aguilar, Joyce Carr, and Gary Schocker on being re-elected to our board for another three-year term expiring in 2024.
These outstanding individuals are members of Ascentra Credit Union and volunteer their time and talents to serve as a board member. The foundation of the credit union movement was built by volunteers decades ago, and volunteerism still plays a significant role today. It's that spirit of "people helping people" that makes the credit union system unique. The importance of skilled and dedicated volunteers remains a key feature in credit union structure. By law, credit unions are required to have a volunteer board of directors and function without salary or direct compensation for their contributions. Their volunteer status, however, does not lessen their responsibilities for setting the direction and policies for the credit union. The board's ultimate responsibility is to guide and direct the credit union by using sound business practices. The board must consider many factors as it provides direction such as observing state and federal laws, monitoring regulatory changes, and complying with the credit union's bylaws. In addition, it must remain responsive to members' financial needs. Their role is the key to each credit union's success.
Our board of directors are individuals that are dedicated to the credit union movement, improving the financial lives of our members, and serving in our communities. They embrace the philosophy of "people helping people" as shown by their volunteerism and I would like to personally thank each and every one of them for their commitment to the staff and membership of the credit union. Their hard work doesn't go unnoticed and is very much appreciated.
Ascentra's full board includes;
Larry W. Ridenour,
Board Chair;
Woody Perkins
, Vice Chair & Credit Committee Chair;
Mary Soeder
, Treasurer;
Joyce Carr
, Secretary;
Greg Aguilar
, Credit Committee;
Tom Gibbs
, Audit Committee;
Larry Ketelsen
, Audit Committee;
Gary Schocker
, Audit Committee Chair;
Troy Smith
, Credit Committee;
Bob Lee
, Associate Board member. Their combined years of service totals more than 175 years.
Those pictured are (back row, left to right) Linda Andry, Ascentra President and CEO, Mary Soeder, Larry Ridenour, Gary Schocker and (front row) Bob Lee, Tom Gibbs, Woody Perkins and Joyce Carr.