Ascentra Credit Union Partners with Gilda's Club Quad Cities to Celebrate Memory of Late President and CEO Dale Owen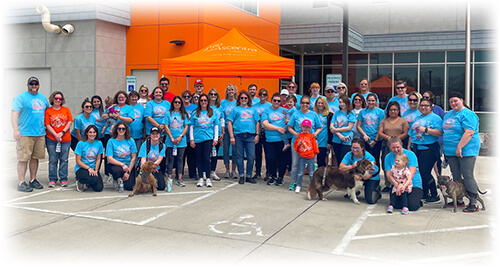 Following the loss of Ascentra President and CEO, Dale Owen in Nov. 2020 to pancreatic cancer, Ascentra teamed up with Gilda's Club Quad Cities to not only sponsor their Annual Run for Laughs, but also to host a special run/walk for Ascentra staff to honor Dale's memory.
The American Cancer Society predicts that there will be 1.9 million new cancer cases and over 608,000 deaths from cancer in the United States during 2021.
The mission of Gilda's Club Quad Cities is to ensure that all people impacted by cancer are empowered by knowledge, strengthened by action, and sustained by community. Free of charge, Gilda's Club provides support, education and hope to all people affected by cancer.
"Gilda's Club works tirelessly to better the lives of cancer patients and their families," said Barry Shaw, Marketing Team Lead, Ascentra Credit Union and event coordinator. "It was fitting to continue our sponsorship of this event and combine it with a personal walk for Ascentra Staff to celebrate the life of our past leader and friend, Dale Owen."
The walk, held on Saturday, April 24th began at Ascentra's home office in Downtown Bettendorf, extended to the Bettendorf Riverfront Trail and ended back at the home office. Over 50 employees wearing custom Ascentra blue "Be the Light"/ Expanding Hope t-shirts, and friends, family and Gilda's Club staff participated in the 5k run/walk.
During Dale's five-month battle he made it a priority to keep in touch with staff, friends, colleagues and family, reminding them to "Be the Light" to others.