2021 Board Election & Annual Meeting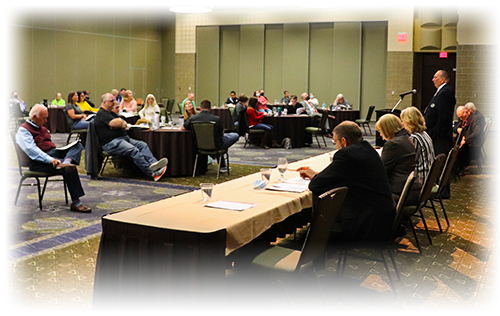 2021 Board Election & Annual Meeting
When:
April 20, 2021 at 7 p.m.
Where:
Tanglewood Hills Pavilion, 4250 Middle Rd, Bettendorf IA
At the next Annual Meeting, there will be three positions open for volunteer board of directors. Each is a three-year term position. The voting will take place in person by
paper ballot only at the Annual Meeting.
1.) No nomination will be taken from the floor of the Annual Meeting
2.) No absentee ballots will be accepted
The following board candidates are listed below with their qualifications:
Greg Aguilar
Greg Aguilar is the Director of Talent Attraction and Retention for the Quad-Cities Chamber of Commerce where he works to build up the reputation of the Quad-Cities as a place where young professionals, entrepreneurs, artists, innovators and diverse populations are visible, engaged, and thriving in their careers and their community. Most recently, Greg served as the Northwest Regional Manager for the Illinois Department of Commerce & Economic Opportunity where he covered 10 counties working with community stakeholders on workforce solutions, business retention, attraction, and growth. Greg is a founding board member of the Greater Quad-Cities Hispanic Chamber of Commerce. His regional work in diversity and inclusion has received various national recognitions including the 2012 College of the Year by the National Hispanic Institute for his work at Augustana College, the same year the Greater Quad Cities Hispanic Chamber was recognized as the Small Chamber of the Year by the U.S. Hispanic Chamber of Commerce. In 2011, Greg's work in diversity outreach at Ascentra Credit Union earned the credit union a Diamond Award from the Credit Union National Association's Marketing and Business Development Council. Joining the board of directors in 2017, Greg currently serves as the Audit Committee Secretary and a member of the Nominating and Cyber Security Committees.
Joyce Carr
Joyce Carr is a long-time resident of Davenport, Iowa. Joyce took early retirement from Westinghouse Electric/Eaton Corp. where she worked as an Inside Salesperson/Project Estimator for 21 years. Joyce received her Bachelor of Science degree in sales and marketing with an emphasis in psychology from Cardinal Stritch College in Wisconsin, graduating in 3 years with Academic Honors. Joyce served on the Ascentra Credit Union Board of Directors from 1998-2010 as Chief Financial Officer and on the ALCO, Credit, Disaster Recovery, and Executive Committees. She also furthered her board education by completing several units of the Volunteer Achievement Program. Joyce joined the Ascentra Credit Union Board of Directors as an Associate member in 2017 and as a Board of Director in 2020. Joyce has served as President and Fundraising Chair for the Davenport Wednesday Evening Optimist Club and received an award for her outstanding volunteer service. As a Red Cross volunteer she has taught First Aid and CPR classes in Rock Island, Illinois and served as a post-hurricane caseworker in Corpus Christi, Texas. Before retirement, Joyce regularly collected food for the Minneapolis Food Bank and Adopt-a-Family program, toys for the Toys for Tots program, business clothing for low income job seekers, and toiletry items for the Minneapolis Abused Women's Shelter.
Gary Schocker

Gary Schocker returned to the credit union board in February 2000, after having served a two-year term from 1992 to 1994. He completed 2 years at Iowa State, studied accounting at Palmer Junior College, and has over 25 years' experience in updating and training on Income Tax preparation. Gary retired from Alcoa in 2014 where he worked for 30 years. He currently works part-time at Menards and enjoys spending his free time actively involved in his grandchildren's lives and putting 1000+ piece puzzles together with his wife. His volunteer activities include serving as a soccer official, former Dad's Club member, choir member for his local church, and member of Barbershop Harmony Society (close harmony a cappella style music). Gary currently serves as the Audit Committee Chairperson, Cyber Security Committee Secretary and as a member of the Executive Committee. He has served on the Building, Credit, Personnel, Nominating, Disaster Recovery & IT Technology and Board Policy Updates Committees.