Ascentra Credit Union Makes $15,000 Pledge to Help United Way Address Local Inequities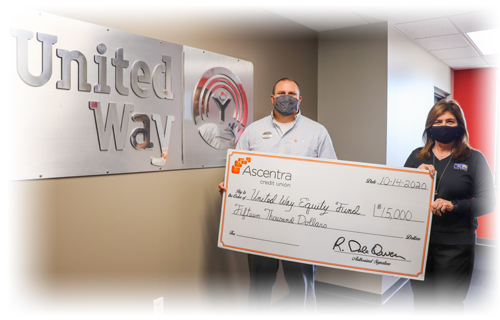 Ascentra Credit Union has made a $15,000 pledge over the next 3 years to the United Way Quad Cities' efforts to help address the inequities that affect blacks and minorities throughout our region. Ascentra joins a growing list of investor businesses and organizations, in a community-wide joint effort lead by the United Way Quad Cities whose aim is to raise $200,000 to help fund strategic efforts that address the racial gaps in various aspects of our community.
For the past five years, the United Way has worked closely with partners to measure and monitor academic benchmarks for Scott and Rock Island county K-12 student achievement, track employment and jobs trends, median income, housing, poverty and health and well-being measures. This collective data illustrates too many Black Quad Citizens start out and face a lifetime of historical and modern roadblocks keeping them from thriving.
"The Black and Latino communities are also the hardest hit by COVID-19, exposing the health and economic disparities resulting from years of disinvestment and structural racial barriers. The correlation between race and achievement gaps in education, income and health makes it critical for United Way to address racial equity strategically," United Way Quad Cities President and CEO Rene Gellerman says.
Today, the local United Way hosted the Equity Summit, a series of virtual conversations revolving around topics that will acknowledge, address, and offer solutions to these inequities. The priorities and ideas that come out of the Equity Summit conversations will assist a Black-led, team of diverse volunteers who will determine the priorities and ideas that will be funded with the $200,000.
In addition to the investment, Ascentra provided staff specialized training on Diversity, Equity, and Inclusion this week, had internal open dialogue about these topics, and is encouraging staff to take part in the upcoming 21-Day Equity Challenge from the United Way. Coincidentally, the local Equity Summit fell on International Credit Union Day, in which credit unions around the world celebrate the credit union movement which helps bring about access to affordable mainstream financial services to many underserved populations – which this year has the fitting theme of "Inspiring Hope for a Global Community".
"Local diversity, equity, and inclusion efforts align with our culture and the outreach efforts we have put in place to make financial services attainable and equitable to all individuals throughout our region," says Jennifer Naeve, SVP, Chief Marketing Officer, Ascentra Credit Union. "It's extremely helpful to have a partner like the United Way providing a platform to solve issues like these that we see every day; while also equipping our team members with information to grow personally and professionally which ultimately has a positive effect on the way we interact with each other and our members."
The larger strategy of creating awareness of local inequities will also be shared by Ascentra with the financial services industry locally and worldwide on social media with the hashtags #ICUDAY and #CUDIFFERENCE.
"We have an opportunity to turn a moment into a movement. A movement that will put opportunity in the hands of all Quad Citizens, regardless of race or ZIP code," added Gellerman. "We are seeing corporate, civic and public sector partners that are coming together to help build a brighter and more equitable Quad Cities."
To learn more about the upcoming 21-Day Equity Challenge and to register visit
unitedwayqc.org/equity-challenge.