Ascentra Partners with River Bend Foodbank to Spread Awareness of Local Food Insecurities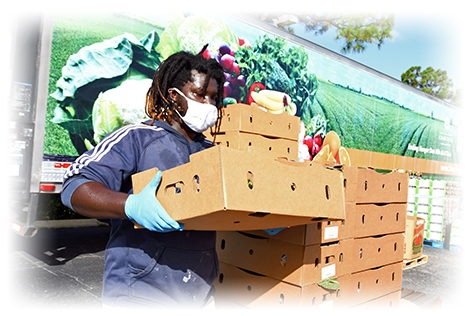 Quad Cities, Iowa and Ill. – As of October 2020, nearly 160,000 people, including 55,000 children are now facing food insecurity in eastern Iowa and western Illinois. "There are over 50,000 more people in our service area who do not have enough food because of COVID-19," said Mike Miller, president and CEO of River Bend Foodbank. "I am sad to report that we are now at the highest level of food insecurity ever."
Ascentra Credit Union has partnered with the River Bend Foodbank to initiate a public awareness campaign to help fight hunger in our local communities. The campaign, titled "Season of Caring" is dedicated to supporting the Foodbank's mission to help limit the impact of food insecurity by providing free and convenient access to the healthy food individuals and families need to fill gaps left by their income and support programs. Locally, the River Bend Foodbank leads the community-wide effort to end hunger by collecting and distributing food to hunger relief organizations in a 23-county, bi-state region.
The goal is to bring community awareness to the issue of food insecurity in the areas the credit union serves. Ascentra plans to do this through sharing information, hosting mobile food pantries, supporting local food programs and events, staff volunteering, and monetary donations.
To start, Ascentra has chosen the River Bend Foodbank as the benefactor to their annual Ride 50 Auto Loan promotion. This means that for every new, used, or refinanced auto loan processed, using code RIDE50, during the months of October, November, and December, Ascentra gives $50 to the borrower and $50 to the Foodbank. The same promotion raised over $12,000 for the Salvation Army in 2019.
"When we were told how many additional men, women, and children were suffering from food insecurity in our communities due to COVID-19, we knew we had to do something," said Jennifer Naeve, Senior Vice President, Chief Marketing Officer at Ascentra Credit Union. "Our past relationship with the Foodbank has shown us how much further a dollar stretches when food is purchased through them over a traditional grocery store, and we knew that our credit union and its members could make the biggest impact on hunger in our communities by partnering with the River Bend Foodbank."
The current conditions have created a spike in the Foodbank's need. Locally they have distributed 45 percent more food during the spring of 2020 compared to the year prior and with a projected recession, continued unemployment, and increasing spikes in coronavirus cases, this high demand will likely continue through the end of 2020 and into 2021.
Ascentra and the River Bend Foodbank encourage you to join them in the effort to end hunger and join the Season of Caring by volunteering your time or making a donation to the Foodbank this holiday season. Visit
Ascentra.org/caring
for important statistics and information on how you can help.