Helping a Small Town is a Team Effort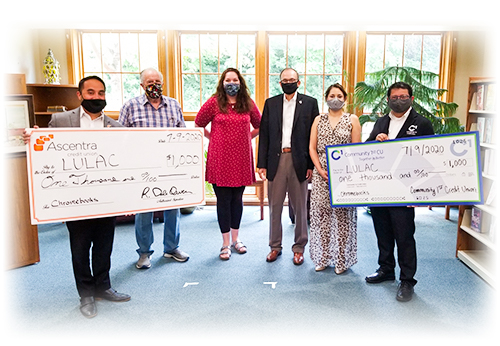 Some communities in our region are being affected by the current pandemic at a higher percentage than others. The small Iowa town of Columbus Junction saw a surge in COVID-19 cases due to the dependence of essential workers having to be in close proximity of each other at their local meat packing plant – the town's largest employer. The majority of those employed at the plant are immigrants and/or of Hispanic descent who have weathered the brunt of the pandemic in town.
The town's chapter of League of United Latin American Citizens (LULAC) reached out to their Davenport counterparts for help. They needed 10 Chromebooks for the local library that students and families may check out to keep learning safely at home during the summer months and into the upcoming school year.
LULAC communicated the need to Ascentra as well as its Iowa credit union peers Community 1st Credit Union and each donated $1,000 for this cause. Both credit unions are certified Community Development Financial Institutions dedicated to delivering affordable lending to low-income families, and working with disadvantaged communities to join the economic mainstream. They are also both members of the
Juntos Avanzamos
(Together We Advance) network of credit unions committed to serving and empowering Hispanic and immigrant consumers.
"We are happy that LULAC reached out to us about this opportunity to help a community that has experienced unproportioned hardships due to this pandemic," said Alvaro Macias, VP of Business Development at Ascentra Credit Union. "I'm also happy that our friends at Community 1st Credit Union were part of this effort, which shows the true spirit of collaboration by credit unions to the betterment of our communities. We are all in this together and can accomplish so much more by working with others."
On July 9, 2020,
Davenport LULAC Council
Administrator Michael Reyes presented a check for $2,000 to the Columbus Junction Librarian Amanda Grimm. In attendance were Mayor Pro Tem Harold Prior, Maria Gomez who coordinated on behalf of the Columbus Junction LULAC council, Alvaro Macias from Ascentra Credit Union and David Suarez of Community 1st Credit Union.