Ascentra Credit Union Receives Diamond Awards for Outstanding Marketing Achievements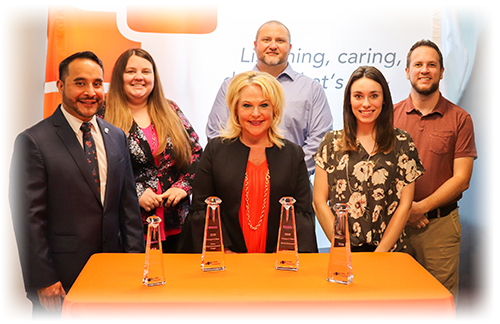 Ascentra Credit Union was recently awarded four awards by CUNA (Credit Union National Association), in recognition for outstanding marketing and business development achievements in the credit union industry.
The awards were presented by the CUNA Marketing & Business Development Council, a national network comprised of over 1,200 credit union marketing and business development professionals. Awards are given in each of 35 categories ranging from advertising to community events and beyond.
Ascentra won three "Category's Best" awards and one Diamond Award:
Category's Best: Brand Awareness – This category recognizes marketing efforts that increase brand awareness recognition to current or potential credit union members. Ascentra won this award for promoting its brand identity through a fresh new music video, featuring local artist TC Boyd, titled "Hey, It's Ascentra". It was released on social media and television Oct. 2019, and is available on Spotify, Apple Music and iTunes.
Category's Best: One-Time Event – This category recognizes activities or material related to a one-time event. Ascentra won this award for the marketing campaign designed to promote their grand opening events for their new home office. This included three special events: a VIP party, a block party and a ribbon cutting ceremony.
Category's Best: Video, Non-Commercial – This category recognizes single videos produced by or for the credit union. This is the second award Ascentra won for the "Hey, It's Ascentra" music video. Once launched, the video quickly reached more than 115,000 people within two weeks. Watch the entire video on Ascentra's YouTube page.
Diamond Award: Complete Campaign – This category recognizes efforts used in a single marketing campaign that includes a minimum of three different elements. Ascentra won this award for its Ride 50 campaign during the 2019 holiday season.This campaign, themed "The Gift is in the Giving", featured a promotion that gave $50 to the borrower and $50 to the Salvation Army in their community for every auto loan approved. The campaign produced $11,550 in total donations to the Salvation Army on behalf of Ascentra's members.
"The Diamond Awards are among the most prestigious in the credit union industry. We are absolutely honored to be recognized by the council and are thrilled to share our unique marketing campaigns with others in the profession," said Jennifer Naeve, Senior Vice President, Chief Marketing Officer, Ascentra Credit Union. "We have an almost entirely new marketing team and I am quite proud of what they accomplished in such a short time, they really committed themselves to the Ascentra culture and what it means to represent credit unions."
This year the CUNA Marketing & Business Development Council celebrated Diamond Awards Week by announcing winners through a series of daily virtual awards ceremonies. Overall, 1,295 entries were submitted. Six credit unions won Best of Show Awards, 93 won Category's Best Awards and 255 won Diamond Awards. For more information about the Diamond Awards, click here.

Photo: Ascentra's award winning marketing team stands behind the three Category's Best Awards and Diamond award presented by the Credit Union National Association for their 2019 marketing campaigns. (left to right: Alvaro Macias, Vice President of Business Development; Lindsey Osborne, Marketing Specialist; Jennifer Naeve, Senior Vice President, Chief Marketing Officer; Barry Shaw, Marketing Team Lead; Sarah-Beth Floyd, Digital Marketing Coordinator; and Travis Kershaw, Marketing Media Designer and Assistant.)