Thanking Local Healthcare Heros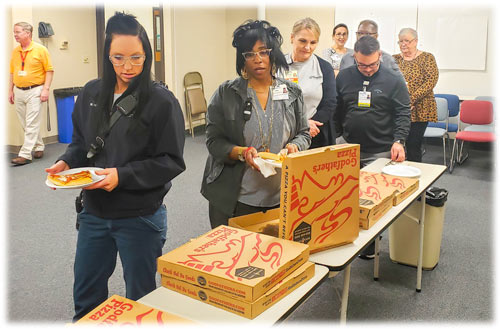 During this pandemic our healthcare workers have been putting their lives at risk to take care of those affected by COVID-19. This means longer shifts, less time with their families, and a higher chance of getting infected. However, this has not stopped these brave men and women and we could not be more appreciative.
We understand that many healthcare workers are so busy caring for others, that they often don't have time to go get something for lunch. That's why recently we brought lunch to them! What better way to say thank you, than with pizza?
While we were supplying our hospital staff with food, we also made sure to support our local businesses.
The staff at the Silvis Genesis Medical Center was treated to Godfather's Pizza. In Davenport, both the Genesis Medical Center East Campus and West Campus were treated to Happy Joe's.
UnityPoint Health - Trinity in Rock Island and Moline also received pizza from their local Happy Joe's. In Muscatine, UnityPoint Health – Trinity got pizza from local favorite Port City Underground.
Thank YOU nurses, doctors, EMTs, all other healthcare workers, and those who clean our medical facilities. Your tremendous efforts do not go unnoticed and your communities are so appreciative of everything you're doing.