Pleasant Valley Students Celebrate Booker Bear 2020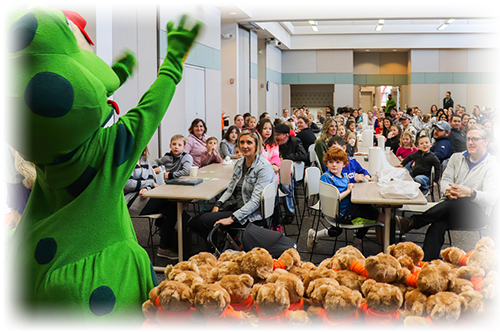 The 21st annual Booker Bear Reading Challenge took place on Saturday, March 7th at the Bettendorf Public Library. The program awards students from Bridgeview, Cody, Hopewell, Pleasant View and Riverdale Heights with a pizza party, a certificate and their very own Booker Bear stuffed animal! Each first grader is challenged to read 10 or more books in a month, and each year the program is completed by more and more students.
An outstanding 98% of first graders completed the challenge. Over 1,000 students and their family members attended the pizza party. Each student was individually recognized for their accomplishment and called up to take a class photo with Booker Bear and Jumpin' George. You can find the complete gallery of photos from the day on Ascentra's Facebook page by clicking on the Booker Bear Pleasant Valley 2020 photo album.
The annual Booker Bear Reading Challenge event began in 1999 and is the first reading program of four that Ascentra supports. Thank you to our partners at the Bettendorf Public Library, the Pleasant Valley Community School District, and the Ascentra staff who volunteered their day to make this event possible.