Ascentra Credit Union Paws It Forward in Clinton, IA
CLINTON, IOWA – In the winter of 2017, local news broke about a horrific scene of neglected and abused pit bulls in Clinton, Iowa that captivated the attention of many throughout the region. The Clinton Humane Society took in the eight dogs right away and have been nursing them back to health, but the non-profit organization needed help as well.
"When something like this happens, it puts a big strain on us financially with vet bills and things like that, we need even more help and more support," said Jennifer Gerdes, Operations Manager of the Clinton Humane Society. "It can be overwhelming. We're a 501c3 so we're non-profit. We rely very greatly on our donations and sponsorships."
Like many who were moved in the community, Ascentra Credit Union staff felt it was important to do their part especially during a time of need. As part of a bigger project for International Pay it Forward Day, a group from Ascentra went to the Clinton Humane Society to show the dogs some love, and also brought with them a check for $500 to help offset the mounting costs for the organization.
"While it may not cover all of the mounting costs, we know any little bit helps," said Jennifer Naeve, Chief Marketing Officer at Ascentra. "This is just one of many ways we are celebrating Pay it Forward Day and on April 28, the whole region will see how these random acts of kindness can have a lasting impact on our communities."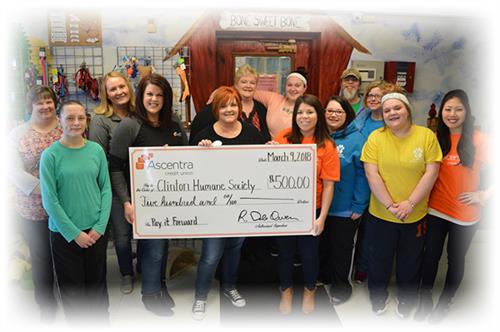 From Clinton to the Quad Cities and down to Muscatine, Ascentra has been busy surprising shoppers, teachers, students, and organizations by paying for their groceries, coffee, and much more.
Inspiration for these kind gestures was from the popular music video "God's Plan" from Grammy award-winning artist Drake, in which he gives away all of the money that was budgeted for his video.

These special moments were captured into a lively video and released on International Pay it Forward Day, April 28, 2018. You can watch it on Ascentra's social media platforms including YouTube, Facebook and Instagram. Leading up to April 28, Ascentra has been releasing short, sneak peek videos and behind-the-scenes footage on their social media.
Just as the people at Ascentra were inspired, they hope it sparks a movement in the community and encourages everyone to share with them how they are paying it forward by using the hashtags #Ascentra and #PayItForward.