ACU Foundation Awards $20,000 in Grants to Area Organizations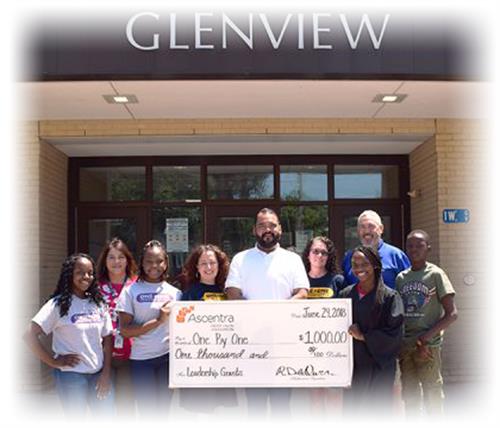 The Ascentra Credit Union Foundation has announced the recipients of its 2018 Leadership Grants. This summer, the foundation awarded a total of $20,000 to 31 different organizations and charities throughout the region.

These efforts stem from the credit union's People-Helping-People philosophy and encouragement of staff to volunteer and give back to the community. In 2015, the foundation committee established $1,000 Leadership Grants for the Ascentra volunteer board of directors and senior leadership team to support causes that are meaningful to them. Since their establishment, the Leadership Grants have positively impacted over 74 organizations and awarded a total of $71,000.
The charities and organizations selected this year include:
Associate Benevolent Society, Clinton
Big Brothers Big Sisters of the Mississippi Valley, Davenport
Café on Vine, Davenport
Central DeWitt Community Educational Foundation, DeWitt
Christ's Family Day Care, Davenport
Churches United of the Quad Cities, Bettendorf
City Center Ministry, Davenport
Community Health Care, Inc., Davenport
East Moline School District – One by One Program, East Moline
Father Conroy's Vineyard of Hope, Davenport
FIRST Robotics Competition (FRC) Team number 648, Blue Grass
Habitat for Humanity of Clinton County, Clinton
Habitat for Humanity Quad Cities, Davenport
Henry County Humane Society, Geneseo
Honor Flight of the Quad Cities, Davenport
Humane Society of Scott County, Davenport
Illowa Council Boy Scouts of America, Davenport
King's Harvest Pet Rescue, Davenport
Living Lands & Waters, East Moline
One Eighty, Davenport
Pregnancy Resources, Davenport
Quad City Animal Welfare Center, Milan
River Bend Foodbank, Davenport
Rock Island-Milan Education Foundation, Rock Island
Safe Path Survivor Resources of Family Resources, Moline
Spring Forward Learning Center, Rock Island
Mark Lutheran Church, Davenport
The Davenport Chordbusters, Davenport
The Handicapped Development Center, Davenport
YouthHope, Moline
Zion Lutheran Church, Clinton
One recipient of these grants is the One by One program in East Moline. This program targets 7th and 8th grade students in the East Moline School District #37 who will be the first in their family to attend college and is designed to inspire them to reach for higher educational goals. This is done through university visits, motivational speakers from those in the local community who have beaten the odds to find success, and educational outreach.
"The money will 100 percent be used for academic opportunities for first generation college-bound students this coming school year," said One by One Program Coordinator, Margarita Mojica. "We work with 50 students every year and so this money is essential in helping us to open those doors—we are very appreciative."
The Paul Lensmeyer Golf Outing is the major fundraiser for the Ascentra Credit Union Foundation and will take place on Monday, Sept. 24th at the Rock Island Arsenal Golf Course at 10 a.m. The golf outing has raised a generous $53,516.62 over the past three years to benefit the foundation. More information about the foundation's mission can be found at ascentra.org/foundation.