Ascentra Credit Union Foundation: A look back at 2016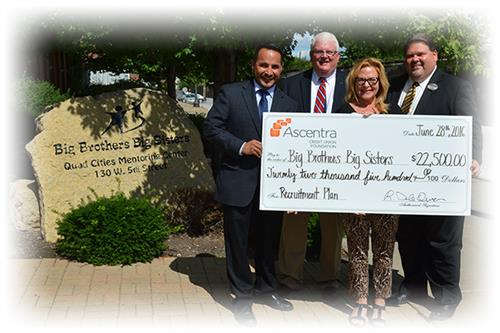 In 2016 the Ascentra Credit Union Foundation made a positive impact that will help many area organizations fulfill their missions and causes. By creating the Ascentra Credit Union Foundation, we have ensured a way to support our community for generations and we invite our membership to let us know of such worthy causes.
Our focus is on funding work to enhance youth development, expand credit education opportunities, foster community development, support cultural activities, and invest in ways to enhance the financial viability of the underserved.
This year a number of causes and organizations which are highlighted here will be able to continue their service and in some cases expand their efforts to reach and help more people in our region.
Big Brothers Big Sister of the Mississippi Valley
A generous grant for a total of $22,500 for three years was given to support Big Brothers Big Sisters for their volunteer recruitment program. The program includes the community effort, 100 Days / 100 Bigs, as well as a program called Recruit One which encourages existing Big Brothers and Big Sisters to each find just one potential volunteer a year.
Annual Leadership Grants
This was the second consecutive year for the leadership at Ascentra to help out organizations and causes that they believe in. This past summer, a total of $17,000 was donated to 36 organizations and charities throughout Eastern Iowa and Western Illinois.
David R. Collins Children's Literature Festival
The Midwest Writing Center received a generous donation of $5,000 to allow this exceptional event to progress and provided workshop groups to interact with and benefit from noted children's authors and illustrators. About 675 school children from schools throughout the Quad City region attended the latest annual celebration from grades 3-6 to share in the excitement.
Summer Enrichment Program – Spring Forward Learning Center
The Summer Enrichment Initiative (SEI) in Rock Island received a huge boost thanks to a generous $18,897 grant to support efforts to decrease summer learning loss for children in Rock Island. The funds provide the Leveled Literacy Intervention curriculum that is used by the initiative and managed by the Spring Forward Learning Center but was unavailable to staff and the children they serve at the Martin Luther King, Jr. Community Center.
Documentaries
The Ascentra Credit Union Foundation committed $5,000 to the Iowa Credit Union Foundation to help show an important documentary in schools about the true cost of college and student loans. The film Broke, Busted, and Disgusted was created by financial educator and author Adam Carroll and shines a light on an economic burden that is affecting our future.
The foundation also contributed $5,000 to the production of a short video produced by Mickle Communications titled "If You Only Knew: The Journey Through Teen Depression and Suicide". The video will be shown in middle schools and high schools throughout the Quad City area and other parts in Iowa.
Junior Achievement of the Heartland
In 2016 we made our second donation of a 4-year commitment totaling $50,000 to allow JA to expand their programs in Muscatine, Clinton, and the Quad Cities.