Bettendorf Branch Dedicated to Paul Lensmeyer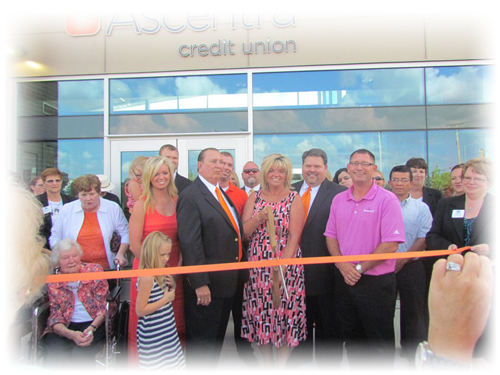 Ascentra Credit Union's ninth branch located at 2339 53rdAve. in Bettendorf was dedicated to our late CEO Paul Lensmeyer on Monday, July22nd during its official ribbon cutting ceremony. Mr. Lensmeyer's family was there for the unveiling of a special plaque with his likeness that will be permanently placed on the structure. His family also had the honor of cutting the orange ribbon.
Bettendorf Mayor Bob Gallagher was on hand to speak at the ceremony and noted that it was the biggest turnout to a ribbon cutting ceremony that he has witnessed in Bettendorf. Ambassadors from the Quad Cites Chamber of Commerce and the Greater Quad Cities Hispanic Chamber of Commerce spoke of Paul's contributions to the community.