Salvation Army - Career Services
Jul 31, 2023, 16:14 PM
Title :
Salvation Army - Career Services
Video CTA :
Date published :
Dec 22, 2022, 00:00 AM
We're not just giving people services or money. We're giving them hope.
We are not boxed into any particular delivery model. So we can really be what Clinton needs.
And so right now, the demand is for resumes and job skills, finding employment and trying to get over the technological barrier that a lot of people have.
If the only job you ever had was one that never required a resume, you're in uncharted territory.
So I think a part of the process is forming a relationship with this person so that I can help them tell their story.
So being able to spend time with people again is such a key thing that a lot of other agencies can't do.
But we pride ourselves on taking time with people, selling people on their own innate abilities.
How many times do I give people a pep talk every week just to just to help get them back on their feet?
You know, and I can empower somebody to, you know, fill out that resumé knowing, yeah, they have a big gap because maybe they were in prison or maybe they were homeless.
How can we reframe that gap as a real positive?
How can we send them into that interview, Not dreading that question about that gap in their resumé, but being being excited to talk about how they grew and what they learned and why they're a better person for that gap in their resume.
The life center concept for the Salvation Army is about being whatever the community needs. We're not fixed and we're not tied to any particular way that we do what we do.
So we're always asking what does our community need?
And we want to know from people what what they need and we want to meet that need.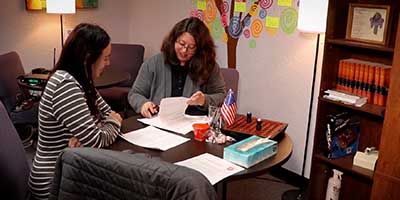 Related pages :