Salvation Army - Volunteer Highlight - Patricia Dywiak
Jul 31, 2023, 16:14 PM
Title :
Salvation Army - Volunteer Highlight - Patricia Dywiak
Video CTA :
Date published :
Dec 12, 2022, 00:00 AM
Thank you.
Bell ringing for me, it's really about knowing that we're going to do the most good with the money and we're giving it back to the community.
We're going to, you know, provide families with housing and provide them with food and toys throughout the year, and things that they need to become successful going along and partnering along with those people that are in need.
You want to ring the bell?
Can you ring it?
Can you ring it?
My name is Patricia Dywiak, and I've been volunteering with the Salvation Army for about seven years now.
I just enjoy helping and giving back to the community and giving back to others and hearing the stories of others and how it's impacted their life and changed their lives.
I think it's like the familiarity, right?
Like it's something natural.
They hear the bells and they think, Oh, you know, here's here's a way we can personally give back.
It's very well known around the country and around the world, actually.
So it's very much part of Christmas.
I think it is very special.
You know, you get people coming up telling you about how the Salvation Army has impacted their lives and the different situations where they might have needed food or toys for their children one winter and they didn't have anywhere to turn.
And then they came to the Salvation Army and their needs were met.
Some families have come up and talked about how they needed help with shelter and things like that and told us their stories and how a Salvation Army was allowed to come aside them and help them get assistance.
So it's really nice to hear. So it makes standing in the cold really worth it.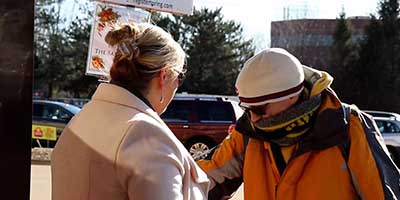 Related pages :