Salvation Army - Rehabilitation Center
Jul 31, 2023, 16:14 PM
Title :
Salvation Army - Rehabilitation Center
Video CTA :
Date published :
Dec 23, 2022, 00:00 AM
I don't even know that our program is well known here in this community, although we've been here for probably 80 years, all told.
The River Valley ARC is a residential rehabilitation center for men with addictions, and so it is a six month program and the men come here of their own free will.
Even if the court refers them, they have an option.
Well, will I go somewhere else where the judge sends me, or will I try the Salvation Army?
So they check into this program and they're involved in the whole program, what we call work therapy, because everybody has an assignment during the day, which is really good because the men are not used to necessarily getting up in the morning and going to work.
So they have to get up early, clean up, get dressed, come to breakfast and then we have a morning devotional time and then they go out and do a job here at the center.
And then in the evenings they have their counseling classes, individual counseling and group counseling group activities that would include going to AA meetings and NA meetings outside and inside.
So there's a whole panoply of programs that they're involved in.
Almost every Sunday we're graduating somebody from the program and they're getting reunited with their family.
And just yesterday, we had a man complete the program and go home to his partner in Keokuk.
And she is suffering from I think, third stage cancer.
So he's going to be able to be there as a present and a productive person in that household and is going to bring that family back together.
So I've had the privilege of seeing a lot of families restored.
Men being productive. We have a good alumni group
and they actually come back and support the guys in the program here. I think it's important that the community knows exactly what we're doing so that they can actually support us, too.
And by the way, our only means of support, we don't take cash donations here, just gifts in-kind, which would be clothing, furniture, household goods and such.
We we distribute them out to our thrift stores. We have seven. And the sale of those goes back into this program to support this program, meaning that we don't charge any fees at all for the men while they're here.
If we can get that word out more that what we do is turn that cash immediately back into the program to help men, then I think that would inspire people to donate more often, not of cash, but of gifts in-kind.
Clothing they're getting rid of, furniture and such.
And frankly, this a good time of year around Christmas because they're getting rid of the old and ready to bring in some new.
And so I would hope people would know what we do with the funds that we get in the thrift store. But we think it all goes together towards one goal.
That a man gets his heart right first, and his chances for success are just that much better.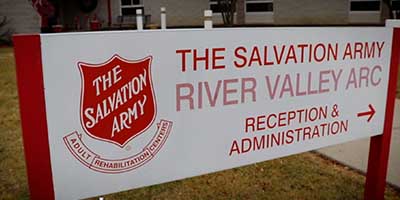 Related pages :