Salvation Army - Housing Assistance
Jul 31, 2023, 16:14 PM
Title :
Salvation Army - Housing Assistance
Video CTA :
Date published :
Dec 19, 2022, 00:00 AM
When you're in crisis and you don't have anywhere to go or you're living in your car, all you think about is how I'm going to make it through that day.
With shelters, a lot of people think as you know, they're not doing anything, they're not working, they're drunks or, you know, addicts.
That's what they think of homeless people.
But these are families with children that literally have nowhere to go.
They are working. They are trying. They're trying their best to be able to get out of that situation.
And they can't do it because they can't afford their housing.
We have currently right now almost 50 families in shelter and that's just the families.
So you're looking over 100 and some people that are in shelter right now and we have about 30 to 40 more families that are waiting to come in a shelter that will be hopefully getting them this week and next week.
People are in crisis. Live day to day for our job as the Salvation Army is to teach them to look into the future.
And so that you do have that savings, you do have that support with someone that a lot of them don't have the support from family.
And so they rely on us as case managers to be able to support them in there and to be able to teach them that, yes, you need a fix today, but you also need to look for the future because you don't know what's going to happen.
We currently right now have 11 families in our transitional housing program where we work with where they work with a case manager to work on some goals that they need to work on.
You know, some a lot of them have evictions, recent evictions, maybe a little bit of a criminal background, different things like that that housing is difficult for them right now.
If anybody has a recent eviction, housing is pretty much impossible at this point.
So transitional housing gives them for this program.
It's up to three years of putting those evictions back, working with a case manager on how to save money, increase their income if they need to.
Whatever goals they want to, to be able to become successful and be able to get their own housing after this is over.
We pay with the grant their rent, and but they also have to save money so that when they do leave us, they have that money for that deposit, first month's rent, second month's rent and whatever they need to move in and to get themselves set up.
So the extra things that we give them is to basically set them up for their their housing, whether they're going into our housing program or into their own home.
We want them to be able to have those basic needs that they need because a lot of people are coming from shelters.
So they only have like some clothes or a couple of things.
So buying the towels, buying the dishes, buying microwaves, getting food, those things cost extra money that they don't have.
And so we like to set them up with those basic things that they have so they can focus on saving them money.
You know, working on budgets, working with the case manager and those things, they don't have to worry about when they're moving in.
You know, when you see people coming to a shelter, they're down in there have had no luck. They just have lost hope.
And so when you work with them as a case manager and you're seeing kind of that hope of like, oh, I can work this job, or oh, now we got childcare, childcare set up.
So now I can maybe now they're in school, so now I can work and seeing the pieces come together for them and the confidence that they have based on them not having to worry about where they're going each night and that their kids can go to school every day and then bringing them into a housing program.
You see the sense of relief, you see the sense of happiness. You see that they have accomplished goals.
It may not be big goals that people think, but the little goals of just getting my kid signed up for childcare, taking them to school, getting them to school, different things like that, that they
when they weren't doing or to save money.
And that is a big it's a reward of of those people that you see and the kids of space that like I'm going into my own place.
We've been moving some of these people into our traditional how these units and the look on their faces when they go in and the kids as faces of having a bed instead of sleeping in their car, that they actually have a bed that they now have bedding for because we provided it for them and they have a place that's warm and they can call their home and they don't have to say, I'm living in my car, I'm living in my house.
It's their house.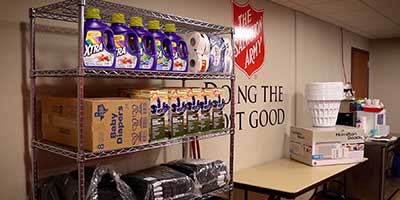 Related pages :