Making Cents of Estate Planning
Jul 31, 2023, 16:14 PM
Title :
Making Cents of Estate Planning
Video CTA :
Date published :
Jan 8, 2020, 00:00 AM
"Today Ascentra is Making Sense of Estate Planning"
Estate planning is the process of designating the distribution of your assets upon your death. It also dictates how your affairs will be conducted, if you are no longer able to make these decisions yourself.
Is it just for the rich or older people? No, regardless of your age or the size and complexity of your estate, a good estate plan should:
Identify the family members and other loved ones that you wish to receive your property;
Ensure that your property will be transferred to those you have identified; and
Minimize the amount of potential taxes and fees that may need to be paid.
Elements of estate planning include a Will or Trust, Power of Attorney for medical and financial needs, and a Medical directive - known as a Living Will - which in the event you're incapacitated, spells out, the care you'll accept.
A well-planned estate can help avoid family disputes, and is a valuable gift to your loved ones, during a tough time.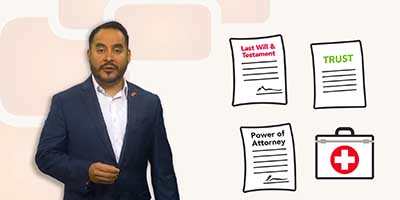 Related pages :