Making Cents of Annual Percentage Rate (APR)
Jul 31, 2023, 16:14 PM
Title :
Making Cents of Annual Percentage Rate (APR)
Video CTA :
Date published :
Aug 1, 2018, 00:00 AM
"Today Ascentra is Making Sense of Annual Percentage Rates"
When determining which loan is right for you, it's important to look at the APR or Annual Percentage Rate.
APR is an annual rate charged for borrowing money. Simply put, it's the price tag on your loan.
Don't confuse the interest rate with the APR.
An interest rate represents the current rate you pay on a loan whereas the APR includes the interest rate plus other costs and fees.
You may find a loan with a lower interest rate, but when you add up costs and fees associated with it, you get a higher APR—costing you more in the long run.
Remember that a good credit score will help you get the best APR with any lender. The higher the APR, the more a loan will cost you.
Before getting a loan, make sure to look at both the interest rate and APR and compare them with other lenders—do your research and build a relationship with a trusted loan officer to make sure you get the best deal!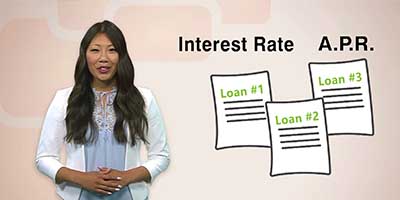 Related pages :