Outstanding Marketing Achievements While Saving and Rewarding Members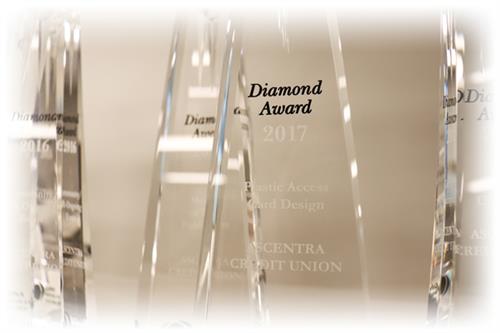 Ascentra Credit Union was recently honored with a Diamond Award, which recognizes outstanding marketing and business development achievements in the credit union industry.
The most prestigious annual credit union industry competition, the Diamond Awards recognize and reward creative excellence and outstanding results in credit union marketing. Presented by the Credit Union National Association (CUNA) Marketing and Business Development Council—a national network comprised of over 1,200 credit union marketing and business development professionals—awards are given in each of 30 categories ranging from advertising to community events and beyond.
Ascentra Credit Union was awarded a Diamond Award at the council's 24th annual conference held March 29-April 1 in San Antonio for the design of their new Visa debit and credit cards with EMV chip card technology. When looking to update to the new secured technology, Ascentra took a holistic approach at the cost implications to their membership. The unique design of the vertical cards are reflective of Ascentra's brand and sport a glitz pearl finish that gives the cards a trendy and sleek look.
"We are humbled and honored to receive this recognition and have seen our marketing efforts really connect with the people of our region," said Dale Owen, Ascentra President and CEO. "The addition of the microchip added a new layer of protection against fraud for our members, and it gave us the opportunity to introduce uChoose Rewards, providing a great benefit to our members while saving them money."
Ascentra's new rewards program is the only one in the region that allows its members to combine and redeem rewards points from both Ascentra Visa debit and Visa credit card purchases. Cardholders can even link cards from other family members to earn points faster and redeem points for merchandise, receive cash back and even donate to charity.
"Over the course of the past few years, we have seen credit card rewards programs that have fallen short of consumer expectation," said Owen. "We have worked hard to find the right rewards program that is best for our members; one that is unique and generous."
For more information about Ascentra's uChoose Rewards, visit
ascentra.org/rewards
.