Friends of MLK - Lindsey Pitts
Jul 31, 2023, 16:14 PM
Title :
Friends of MLK - Lindsey Pitts
Video CTA :
Date published :
Feb 16, 2023, 00:00 AM
Knowing these stories, I hope will help us move forward because we're honoring our past with hopes that we will build a better future.

Lindsey Pitts is believed to be Davenport's first black business owner.
Born into slavery in 1841, in the state of Missouri, he worked in slavery up until about age 21.
Then he escapes from his Missouri owner as a young man with the help of the Underground Railroad.
When the Civil War breaks out, he then enlists in the first Iowa colored Infantry, which was believed to be the 60th colored infantry right here in Davenport, a unit he served in throughout the war.

After several years on his own, Mr. Pitts arrived in Davenport back in Davenport in 1878. He was determined to stay. He was a successful businessman.
He operated the saloon for many years, right here at 120 East fifth Street in what was an entertainment district that the local newspapers derogatorily called "Africa Row" or "Dark Town Row." The 1900s and 1901
Davenport City director notes his saloon was also part cigar stand barber shop and billiard hall.
This area was near the Chicago, the Pacific and the Rock Island Depot.
So that makes this mixed race zone frequented by many, many train passengers as well as locals.
Around 1906, Pitts sold this place and opened a new one, the Exchange Saloon, at 214 East Front Street.
And according to his obituary, Lindsey Pitts was for many years an important African-American political leader in Davenport.

He passed away following a brief illness where he contracted a sickness from attending the funeral of one Jake Busey, at which Lindsey was the pallbearer.

Those were very important times here in this area.
There were free blacks, but then there also slaves working.
And so to have a black man like Lindsey Pitts, who was able to find work and his own work and to be to find this place desirable, to live, I think is is is impressive.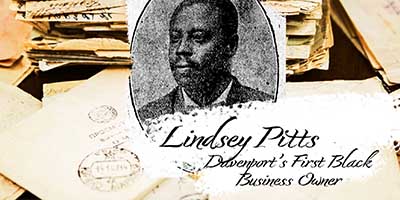 Related pages :