Remembering Dale Owen - Be the Light Park Dedication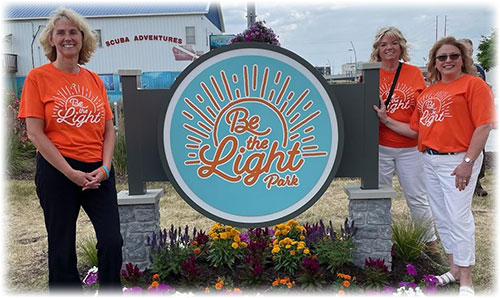 By Linda Andry, President & CEO, Ascentra Credit Union
It is a rare occasion when an individual is celebrated for the impact they made on others. Very seldom does this recognition occur during their lifetime, but often happens after they have passed.
Ascentra Credit Union has lost two incredibly kind, compassionate, intelligent, and caring leaders in the last decade. Paul Lensmeyer passed unexpectedly on May 20, 2013. Dale Owen passed on November 14, 2020, after a 5-month battle against pancreatic cancer. We miss them both dearly. We still hurt because they are no longer with us. We carry on their legacies in what we do every day.
Dale and Paul were passionate about serving others and improving our communities. Dale was an advocate of a bustling downtown, with thriving businesses, entertainment, walkability, and parks for all to enjoy. In 2018, when Ascentra's main location on Grant Street was bursting at the seams with staff, a change was needed! We would not leave the downtown, as that would be a detriment to the area. Our existing building needed to have a continued purpose and is now a thriving and popular restaurant. Dale worked diligently with the City of Bettendorf to acquire land down the street for a new, modern headquarters for Ascentra, which became a cornerstone for incredible growth in downtown Bettendorf.
The Interstate 74 bridge construction was something Dale truly supported, anticipated, and wanted to see come to fruition. The new bridge was huge for our communities, linking the Iowa and Illinois Quad Cities together. Unfortunately, Dale didn't get the opportunity to drive across the first span of the bridge himself, but his stepson Nick drove across the bridge, taking a video the day it opened on November 13, for Dale to experience virtually. He passed the following morning.
Dale was a founding member of the Downtown Bettendorf Organization, was instrumental in its creation, and continually supported their efforts. Coincidently, there was a vacant piece of land at the west end of Bettendorf that would make a wonderful pocket park. As a token of appreciation for Dale's dedication and support of the DBO, Executive Director Ryan Jantzi suggested we dedicate this park to remember the impact Dale had on growth in downtown Bettendorf.
Often, during Dale's 5-month fight with pancreatic cancer, he would remind us to Be the Light. Serve, be kind, volunteer, and put others before yourself. On June 13, the pocket park at the west end of Bettendorf was dedicated to Dale Owen and was named the Be the Light Park. There are two Purple (color for pancreatic cancer) Robe Locust trees planted in the park, one for Paul Lensmeyer, and one for Dale Owen. An orange bench sits at the park as well, representing Ascentra Credit Union. An illuminated sign, reminding us to Be the Light, shines brightly.
At Ascentra, we will continue to Be the Light for our members, staff, and communities. On June 13, also known as Random Acts of Light Day, Ascentra donated $5,000 each to eight organizations in Bettendorf that Paul and Dale served so willingly. Random Acts of Light Day encourages us to support those who are battling cancer, to bring them a sense of joy and happiness during their difficult time. In response, we also donated $5,000 each to the Brantley Francis Foundation and Gilda's Club, organizations that support cancer patients and their families.
As citizens and visitors drive by the Be the Light Park, it is our hope that the sign will be a reminder to serve others.
In the words of Dale Owen…Be the Light!