New Bettendorf Be the Light Park Dedicated to Ascentra's Late President and CEO, Dale Owen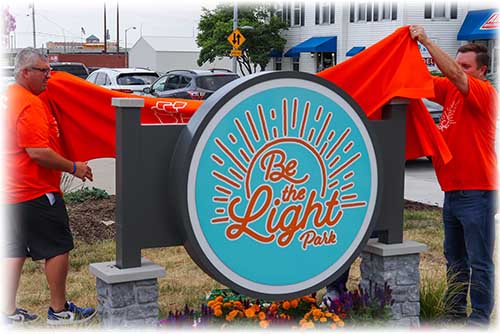 On Tuesday, June 13 the City of Bettendorf, the Downtown Bettendorf Organization (DBO) and Ascentra Credit Union dedicated Bettendorf's newest pocket park, Be the Light Park, to late Ascentra President and CEO, Dale Owen.

The park is located closest to 1108 State Street, Bettendorf and is a right-of-way space belonging to the Iowa Department of Transportation that was underutilized due to its size and being too narrow to build on. Per the vision of the City of Bettendorf and the DBO, the park is now an area that includes a concrete patio, with landscaping, picnic seating and on-street parking with plans to host small events, food trucks and community visitors.

"Dedicating this park to Dale is a creative way for the city to add a unique touch to the types of areas it's creating in the downtown area, provides a positive message to its residents and visitors, and honors a great person, who was passionate about the growth and development of Bettendorf," said Jennifer Naeve, Senior Vice President and Chief Marketing Officer, Ascentra Credit Union.

A short ceremony started the event with local dignitaries, Ascentra leadership and Dale's wife talking about his impact on the downtown area and its community. Those who spoke were Tom Gibbs, Board Chairperson, Ascentra Credit Union; Larry Ridenour, Board Vice-Chairperson, Ascentra Credit Union; Decker Ploehn, City Administrator/City Clerk, City of Bettendorf; Ryan Jantzi, Executive Director, Downtown Bettendorf Organization; Linda Andry, President and CEO, Ascentra Credit Union and Angie Owen, Dale's wife. Following the ceremony, a reception was held across the street at Adventurous Brewing.

"This park, sitting at the entrance to the City of Bettendorf serves as a gift to all of us, to remember Dale, remember Paul (Lensmeyer – Dale's predecessor as President and CEO), and encourage members of our community to serve and be the light to others," said Linda Andry, President and CEO, Ascentra Credit Union. The date of this dedication was strategically scheduled for June 13, National Random Acts of Light Day, a day that encourages us to bring light to the darkness of cancer by surprising someone with an act of kindness. Dale passed from pancreatic cancer in November 2020. For Ascentra, it was a full day of celebration. Many staff members started their day walking around the downtown area conducting acts of kindness for Bettendorf residents. It started with buying breakfast at Stacks and Hardees, buying coffee at QC Fuel and filling up gas tanks at BP. They then cleaned up areas near the I-74 bridge and the new park, followed by handing out $10 bills to patrons of Sportsfans and Riverside Grille during lunch. "It was important to us to not only celebrate what the day signifies, but to also honor Dale by being the light for others," said Naeve.
In addition to these activities, Andry announced that Ascentra Credit Union would also be making multiple $5,000 donations to organizations near and dear to Dale and Paul's hearts totaling $50,000. The organizations are:
Downtown Bettendorf Organization
Bettendorf Development Corporation
Bettendorf Business Network
Iowa Quad Cities Rotary Club
Bettendorf Library Foundation
Friends of Bettendorf Library
Bettendorf Family Museum
Quad Cities Community Foundation
And in spirit of Random Acts of Light Day
The Brantley Francis Foundation
Gilda's Club of the Quad Cities
The ceremony ended with the unveiling of a new park sign, constructed by Riverbend Signworks, showcasing the Ascentra designed Be the Light Logo with an inscription on the back (facing the patio) stating "This park is dedicated to Dale Owen (1968 – 2020), President and CEO of Ascentra Credit Union, for his commitment to the growth and development of the Downtown Bettendorf area. Dale left us with a simple message of inspiration to "be the light."
Two Purple Robe Locust trees were also planted on the park grounds, one for Dale and the other for Paul Lensmeyer. They include tree charms hanging around their trunks memorializing the two leaders with their messages. "Be the Light" for Dale and "Listening, Caring, Doing What's Right" for Paul.