Ascentra Raises $16,900 for Local Salvation Armies through its Ride 50 Auto Loan Promotion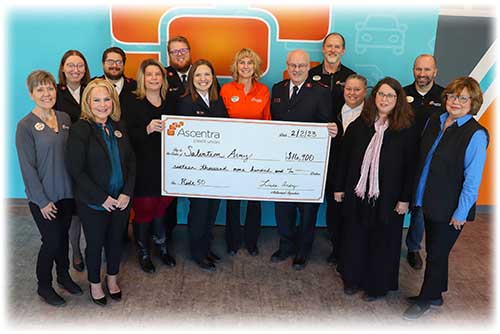 Through its annual Ride 50 auto loan promotion, Ascentra Credit Union and its members raised $16,900 for the local Salvation Army in 2022, including $10,600 for The Salvation Army of the Quad Cities and $2,450 for the Salvation Army of Moline.
This promotion begins Oct. 1 and ends Dec. 31 each year. With every new qualifying auto loan or refinance during those months, Ascentra gives $50 to the borrower and donates $50 to one of four Salvation Army regions depending on where the borrower lives. Combined, Ascentra's nine branches processed 338 auto loans during this time in 2022 which raised a total of $16,900. The five branches in the Quad Cities raised $10,600, the Moline branch raised $2,450, the Muscatine branch raised $1,900 and the two branches in Clinton raised $1,950.
"Given the recent changes to our economy, I am excited to see the community come together to support a worthy organization in such a big way," said Linda Andry, President and CEO, Ascentra Credit Union. "The Salvation Army is a long established organization in our communities and can quickly turn these donations around to immediately help residents in need."
The partnership between the Salvation Army and Ascentra started in 2019, when the Salvation Army was selected as the beneficiary of the Ride 50 holiday auto promotion that year. Since then, they have partnered for this promotion two more times in 2021 and 2022. "Our partnership with Ascentra has once again played an important part in helping us toward our regional Red Kettle Campaign goal," said Maj. Robert Doliber, The Salvation Army's Quad Cities Coordinator. "We also get so much out of the additional efforts Ascentra provides to promote volunteering and awareness of the services we provide in the community".
"It was great having Ascentra on board with helping us raise funds for the Red Kettle Campaign during the holiday season," said Lt. Kristi Dalberg, Corps Officer, The Salvation Army of Moline. "These funds will help us with programming and operations throughout the year and allow us to continue serving the Moline community in 2023."
In 2021, Ascentra's campaign included introducing its members and the community to all the services that the Salvation Army provides in the Quad City, Moline, Muscatine and Clinton areas. This also included promoting its Pathway of Hope program that focuses on helping families break the generational cycle of poverty, and encouraged members, staff and others to volunteer by ringing the bell throughout the holidays. In 2022, Ascentra took its efforts one-step further by coordinating and producing five awareness videos for The Salvation Army to use in its promotional efforts featuring Davenport's Housing Services and the Adult Rehabilitation Center, Moline's food pantry and coat drive, Muscatine's after school program and Clinton's career services. Lastly, Ascentra encourages its staff to get involved by inviting them to be bell ringers and coordinating schedules internally. "Over the past couple years, many of our employees have been bell ringers for The Salvation Army," said Andry. "They've come out to do this as individuals, departments, and even with their families. I am thankful that our Ascentra Team can be a part of something so meaningful during the holidays".
Since 2019, Ascentra's Ride 50 holiday auto loan promotion and its members have generated more than $52,000 to support The Salvation Army and its initiatives. In recognition of this partnership, the Salvation Army presented Ascentra Credit Union with a Community Partner Award during a lunch reception at Ascentra's home office on Thursday, February 2, 2023.
Photo Caption:
Members of Ascentra's leadership team present corps officers from the Salvation Armies of the Quad Cities, Moline, Muscatine and Clinton a check representing the donations generated through its annual Ride 50 auto loan promotion. Pictured left to right are Shelly Ridgeway, SVP and COO, Ascentra Credit Union; Macy Gantner, Corps Officer, Muscatine Salvation Army; Jennifer Naeve, SVP and CMO, Ascentra Credit Union; Lt. Lucas Gantner, Corps Officer, Muscatine Salvation Army; Kelle Larned, Program and Operations Director, The Salvation Army Quad Cities; Lt. John Dalberg, Corps Officer, Moline Salvation Army; Lt. Kristi Dalberg, Corps Officer, Moline Salvation Army; Linda Andry, President and CEO, Ascentra Credit Union; Maj. Robert Doliber, Quad Cities Coordinator and Corps Officer, The Salvation Army Quad Cities; Brad Knutson, EVP and CTO, Ascentra Credit Union; Maj. Rae Doliber, Corps Officer, The Salvation Army Quad Cities; Susan Sharp, Ministry Director, Clinton Salvation Army; Aaron Conner, VP of Operations, Ascentra Credit Union; and Patty Mixdorf, Development and Volunteer Coordinator, The Salvation Army Quad Cities.
About Ascentra
Founded in 1950, Ascentra Credit Union is Iowa's premier credit union with more than $518 million in assets and nine branches serving the communities of Bettendorf, Clinton, Davenport, Muscatine, Iowa and Moline, Illinois. Learn more about Ascentra Credit Union at ascentra.org. Follow Ascentra on Facebook (@ascentra), Twitter (@ascentra), Instagram (@ascentracu), TikTok (@ascentra) and on the Ascentra Credit Union YouTube channel.
About the Salvation Army
The Salvation Army, an evangelical part of the universal Christian church, has been supporting those in need in His name without discrimination since 1865. Nearly 33 million Americans receive assistance from The Salvation Army each year through the broadest array of social services that range from providing food for the hungry, relief for disaster victims, assistance for the disabled, outreach to the elderly and ill, clothing and shelter to the homeless and opportunities for underprivileged children. Learn more about the Salvation Army at https://www.salvationarmyusa.org/usn/.