Making Your Cost-of-Living Adjustment Work for You!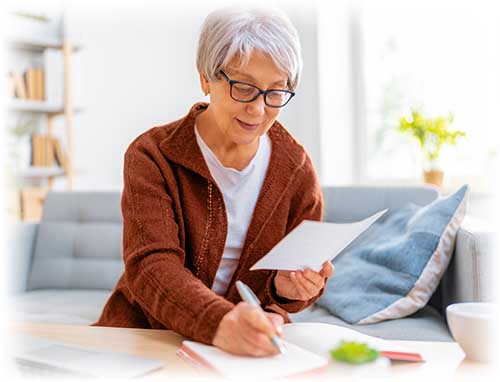 In 2023, senior citizens will see a substantial Social Security cost-of-living adjustment. For the first time in over a decade Medicare premiums are not rising and Social Security benefits are.

Approximately 70 million Americans will see an 8.7 percent increase in their Social Security benefits and Supplemental Security Income (SSI). On average, Social Security benefits will increase more than $140 per month starting in January.

The federal benefit rates increase when the cost-of-living rises. This change means prices for goods and services, on average, are higher. This cost-of-living adjustment (COLA) helps to offset these costs.

What does this mean for Ascentra members? It means you have options!

We suggest that each member receiving Social Security benefits and SSI review their budget, expenses, bills and debt to determine where these additional funds would best benefit their finances. Remember, on average benefits will increase $140 per month which may not seem like much, but totals as much as $1,680 per year. That can help you if you have been struggling to stay within budget.

In some cases, your budget may still be stretched. This increase will help but it still may not fully cover all your costs. If this is the case, we suggest reworking your budget by reflecting on your spending habits and minimizing excessive purchases. Beyond that, tackle your debt by following the snowball method to help pay off debts in order of smallest to largest. Focus on paying off your smallest debt first, then roll over its minimum payment into the next smallest debt payment and keep the snowball rolling.

For those where this additional income is in excess of your budget, what can you do to make these funds work for you? Although $140 per month isn't enough to start major investments, it is enough to begin saving. At Ascentra, we have a couple options available to all members that will help save this money for future use or investing.
Ascentra's All Purpose Savings Account

is a second savings account that also earns dividends. This can be used to build a "rainy-day fund" or a future investments fund.

Ascentra's Club Savings Accounts

are designed to help you save for holiday spending or your next vacation. This separate pool of money earns dividends and gives you a dedicated account to build savings for your next major event.
Each of these accounts comes with no minimum balance, earns dividends, allows unlimited deposits and are available in Digital Banking.

Managing finances and preparing for the future is an important responsibility. For more articles on financial education, visit ascentra.org/learn. To visit with an Ascentra Certified Credit Union Financial Counselor, a free service to our members, for help with creating spending plans, bill management, savings and more, visit ascentra.org/coach or call 563-355-0152 to get started.