2022 Board Election & Annual Meeting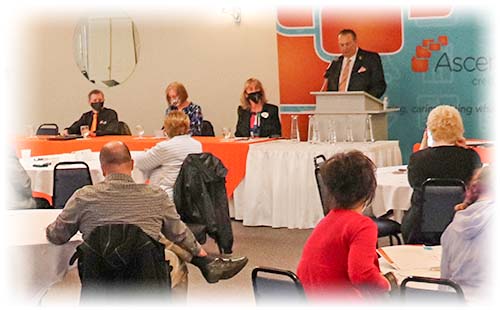 2022 Board Election & Annual Meeting
When:
April 19, 2022 at 7 p.m.
Where:
Ascentra Home Office
Lensmeyer Learning Center
2019 Grant Street
Bettendorf, IA 52722
At the next annual meeting, there will be three positions open for our volunteer board of directors. Each is a three-year term position. The voting will take place in person by paper ballot only at the annual meeting.
1) No nominations will be taken from the floor of the annual meeting
2) No absentee ballots will be accepted
The following board candidates are listed below with their qualifications:
Linda Andry
Linda earned her Bachelor's degree in accounting from Western Illinois University in 1993 and received her CPA designation in 1995. Linda has more than 30 years of experience in the financial industry. During her career Linda has held many financial positions from teller and internal auditor to senior financial accountant, and Executive Vice President and Chief Financial Officer before being appointed CEO of Ascentra in April of 2021. Linda is actively involved in the community and the credit union industry serving on various boards and non-profit organizations. She has served on the Affiliates Management Company Financial Services (AMCFS) board in Des Moines, Iowa since 2014 and was recently appointed to the Community Business Lenders Services Corporation (CBLSC) board in January 2021 and the First Community Trust (FCT) board in November 2021. In addition, she has served as both president and treasurer of the Great River Chapter of Credit Unions since 2006. Locally, she is a member of the Bettendorf Development Corporation and on the board of the Bettendorf Business Network. Since 2004, Linda has given her time and talents as a volunteer treasurer and board member of Christ's Family Day Care, in Davenport, Iowa and serves as the treasurer for North Ridge Community Church in Eldridge, Iowa.
Troy Smith
Troy Smith was elected to the credit union board of directors in February 1995. In 1989, he joined Alcoa, Inc. as a mechanical engineer. Troy worked in the maintenance, engineering and marketing departments until 2004 when he accepted a corporate position as consultant to all rolling locations worldwide. On January 1, 2008, Troy left Alcoa to become General Manager of Chrome Deposit Corporation; a company specializing in grinding, texturing and chrome plating rolls for the steel and aluminum industry. While this change in jobs caused Troy and his family to relocate, the California native still considers the Quad Cities his 'home'. Troy currently works for Novelis Corp. Troy received his bachelor's degree in mechanical engineering from the West Virginia Institute of Technology and an MBA from St. Ambrose University. Troy currently serves on the Credit Committee. He has additionally served as the Chairperson, Vice Chairperson, Chief Financial Officer, Credit Committee Chairperson, Building Committee Chairperson, Strategic Planning Session Chairperson; and on the Executive, Nominating, Directors Policy, ALCO, Building, Disaster & IT Technology, and Staff Personnel Committees at the credit union.
Woody Perkins
Woody attended college for financial planning in Denver and at Black Hawk College. He was a Certified Financial Planner for 25 years. He has been affiliated with the credit union since 1999 and was elected to the board in 2007. Woody is retired as the CFO at Nehlsen Communications where he worked for over 31 years. He currently serves as the Vice Chairperson, Credit Committee Chairperson, and serves on the Executive and Personnel Committees. He has served as the board Treasurer and on the Audit Committee. He has been a board member for Boys and Girls Club of the Quad Cities, and President and Treasurer of Valley Shelter Homes. He has been Treasurer at Edwards UCC Church and has served on the Endowment Board. He has served as a mediator for Scott County Small Claims Court and has served as an arbitrator with the Financial Industry Regulatory Authority (FINRA).