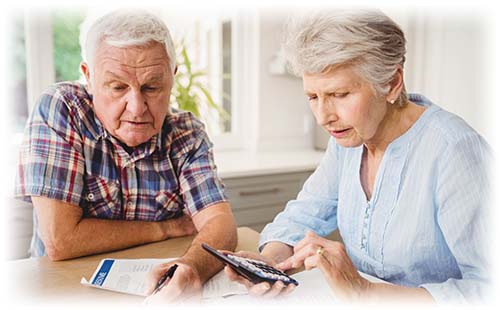 To con artists, down-on-their-luck relatives, or opportunistic acquaintances, the elderly are easy targets. Dementia, disability, and health decline can make it even easier for criminals. This problem costs American seniors billions of dollars every year.
There are multiple scams, unethical businesses, and fraudsters preying on seniors. While the details vary, below are a few of the most common scenarios.
• Breach of Trust - Up to 90% of elder financial abuse* is committed by caregivers or close family members, such as a child added to a checking account to help pay bills and stealing money or a caregiver taking advantage of a person and suggesting to be named in that person's will.
• Phone Scams – A fake call from a financial institution saying there is something wrong with an account and asking for a social security number, birthdate, PIN number, Secure Access Code (SAC), or online account username and password to access account information to fix the problem.
Note: Ascentra will NEVER ask for your debit or credit card PIN, a SAC that was sent to you, or your user ID and password to Digital Banking.
• Phishing Scams – Phishing emails look like they come from a legitimate source, such as a credit union or credit card company. They ask you to click a link to enter account information to verify recent transactions or to fix problems. Unfortunately, the links are fake, and the information entered is used by fraudsters to empty accounts and steal identities.
If you receive a call or an email similar to those mentioned above, Ascentra suggests contacting one of our representatives directly by calling 563-355-0152 or online by clicking the "Let's Talk" bubble at the bottom of our website at ascentra.org.
Another way to protect yourself and your loved ones from elder financial abuse is to sign them up for the Do Not Call Registry which prevents businesses from calling them.
*National Adult Protective Services Association