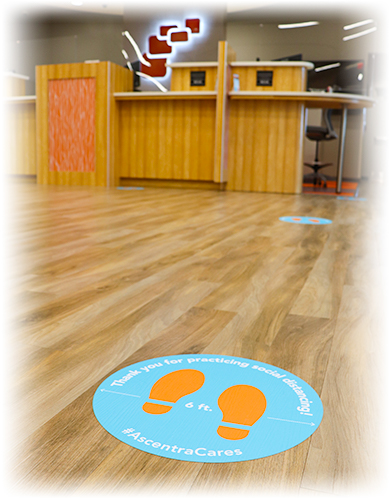 On Monday, June 8, 2020 our branch locations* will resume full-service operations with both lobby and drive up options available. The safety of our staff and members is of the utmost importance to us, and as such we will continue to follow safety precautions set forth by our public health and CDC experts. We will monitor these guidelines and adjust accordingly as we all try to get back to normal.
We will be monitoring our symptoms and exposure and ask for you to do the same. If you have a fever, exhibit flu-like symptoms or symptoms associated with COVID-19, or if there is a possibility you have been exposed to COVID-19, please stay home and call into our Digital Branch for assistance at 563-355-0152 ext. 0.
As you return back to our branches, we want you to know what you can expect.
• Know that we are in this together! We are moving forward together!
• The number of members allowed in the lobbies at one time will be limited. Staff will be here not only to welcome you back, but to help monitor capacity levels.
• Members will be asked to maintain social distancing and stand at least six feet apart from others. Distance markers have been placed on the floors to help with this when in line to see a teller.
• We have installed plexiglass hygiene guards in our branches for both your health and safety as well as ours. You may see our staff wearing facemasks especially when they have to venture outside of the plexiglass hygiene guards and are not able to maintain 6ft of social distancing.
• Although not required, member facemasks are suggested especially for those that may be of high risk. Please understand if we ask you to tip your mask for identification purposes.
• We will continue to follow added safety and sanitization procedures at our branches and ATMs and will have hand sanitizer available throughout our branches.
• For added safety measures, coffee service, popcorn, candy, dog treats, magazines, children's toys, interactive displays and member use computers will be temporarily suspended.
• As much as it pains us we will have to refrain from social greetings such as handshakes, fist bumps, and/or hugs. Please know a smile and a thank you always means we appreciate you as a member and your business.
We encourage our members to continue to use our
digital banking services
, ATMs or call our Digital Branch for assistance at 563-355-0152 ext. 0.
As we move forward together, please know the health and safety of our staff and members is our number one priority and has guided the safety decisions we have made as we reopen our branches to you, our members.
*Please note our LeClaire branch will remain drive up only with scheduled appointments.