Ascentra Credit Union Foundation Presents $50,000 Grant to Girl Scouts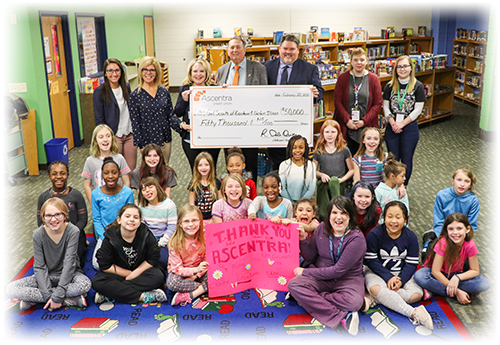 Nearly 2,000 girl's lives are being changed through a new Girl Scouts community outreach program. This program directly supports at-risk girls in the underserved areas of Moline, Rock Island, Davenport, and Muscatine by building courage, confidence, and character through a Girl Scout Leadership Experience.
To help combat the barriers that keep girls from participating, the Ascentra Credit Union Foundation has partnered with the Girl Scouts through a $50,000 grant that contributes to the program's first three years.
The distribution of the grant gives $20,000 to the Girl Scouts in 2019; $10,000 plus a $5000 match incentive in 2020; and $10,000 plus another $5000 match incentive in 2021. The Girl Scouts will raise an additional $5000 each year from outside sources to match these incentives. This guarantees $40,000 with a potential $10,000 in incentives, totaling $50,000.
On February 20, Ascentra's Chairman of the Board, Larry Ridenour, President and CEO, Dale Owen, and Senior Vice President and CMO, Jennifer Naeve presented a check during a troop meeting at Ridgewood Elementary School in Rock Island. They were greeted by Girl Scouts who asked questions about money and how the credit union works. After the presentation, the girls enjoyed cupcakes and conversation.
"Organizations like Girl Scouts are laying the foundation of our future," said Dale. Their staff and volunteers are showing these girls the first steps to becoming strong, independent, and confident people. This program will have a long lasting impact on the lives of these girls and we're very proud to help support such important work."
This program, called
Uniquely Me
for kindergarteners through 3rd grade, and
Fearlessly Me
for 4th through 8th graders, is designed to provide the Girl Scout Leadership Experience to underserved and at-risk girls. Specially trained staff and volunteers work with schools and community groups to give every girl an opportunity to be a Girl Scout regardless of the potential barriers that would keep them from attending troop meetings. To do this, the Girl Scouts provide staff led programming to fit the needs of the girls and offer programs before, during, and after school in places most convenient to them so that they can meet the girls where they are.
"When a girl has the opportunity to become a Girl Scout, she has the opportunity to belong to a sisterhood that gives her the confidence to accomplish anything," said Diane Nelson, CEO of the Girl Scouts of Eastern Iowa and Western Illinois. "Because our program is traditionally volunteer-led, partners like Ascentra Credit Union break down barriers for girls who live in communities where there are challenges to finding volunteers and resources for the program".
The Girl Scouts of Eastern Iowa and Western Illinois serves 38 counties and provides leadership skills to more than 16,000 girls.