Ascentra Members Generate $12,450 for Salvation Army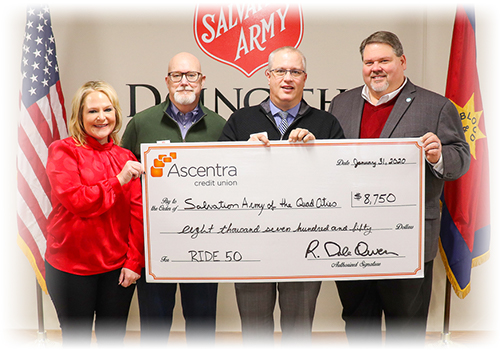 Since 2018, Ascentra members financing a new vehicle during the holiday season have been eligible for a $50 cash giveback and a $50 donation, by Ascentra, to a predetermined charity in that member's community. In 2018, Toys for Tots and The Holiday Network were the benefactors. In 2019, the Salvation Army in the Quad Cities, Muscatine, and Clinton. This program qualified nearly 250
auto loans
during November and December and generated a combined $12,450 in donations.
"After joining the United Way board of directors in Clinton, I learned of all the good things the Salvation Army does in our communities," said Jennifer Naeve, Chief Marketing Officer at Ascentra Credit Union. "So I knew we had to continue this program in 2019.
Dale Owen, President and CEO of Ascentra Credit Union and Jennifer presented checks to each Salvation Army separately. The promotion raised $8,750 for the Quad Cities, $2,050 for Muscatine and $1,650 for Clinton.
"Caring for our members and the communities we serve is paramount to Ascenta's culture." Said Dale. "It's a beautiful thing that we, as a credit union, are very blessed with staff that is dedicated to giving back as much as our organization is."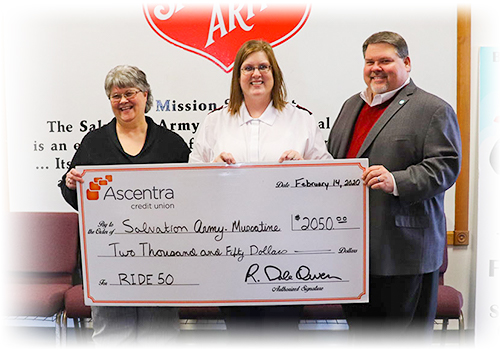 In addition to the promotion, Ascentra employees contributed to the Salvation Army by volunteering to "ring the bell" in their communities, including Ascentra's mascot Jumpin' George. More than 50 volunteer hours were donated and experiences were shared across social media on Ascentra's Facebook page using #TheGiftIsInTheGiving.
The Salvation Army's Red Kettle Campaign began on Thanksgiving Day and ran through Christmas Eve. It is the largest and longest-running fundraiser of its kind and raised $142.7 million nationwide during the 2018 campaign.
"That's an incredible amount," said Lieutenant Greg Bock, Co-officer of the Muscatine Salvation Army, when Ascentra Credit Union told him that they had raised over $2,000 for their Kettle program. "We have exceeded our $180,000 goal for 2019."
"We are so thankful for all Ascentra did this past holiday season," said Lieutenant Liz Bock, Co-Officer of the Muscatine Salvation Army. "With their help, we were able to help over 1100 kids receive toys! It is because of companies like Ascentra that we were able to raise more than this community has seen through The Salvation Army in years!"
"We are blessed to be a part of this opportunity," said Captain Jeremy Fingar of the Clinton Salvation Army. "The Holidays are about giving back, and we can all draw the inspiration to do so from those around us like dedicated men and women of Ascentra Credit Union!"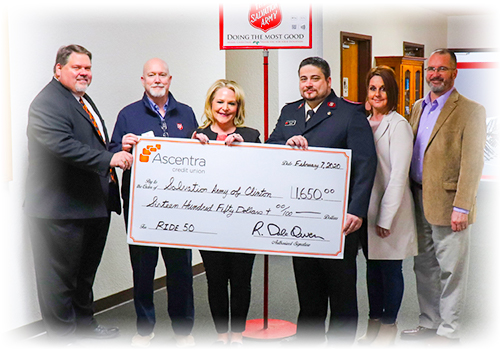 More than 13,000 people are experiencing homelessness in Iowa and Illinois. The Salvation Army is dedicated to reducing homelessness through their programs by providing food for the hungry, emergency relief for disaster survivors, rehabilitation for those suffering from drug and alcohol abuse, clothing, shelter, Christmas toys for children and social service programs to people in need year round.
Since 1891, the Red Kettle Campaign has grown into one of the most recognizable charitable campaigns in the United States. Each year, more than 25,000 volunteers throughout the country ring bells and solicit donations to the red kettles. Learn more or make a difference in your community by visiting
SalvationArmyUSA.org
.