Paul Lensmeyer 1950–2013: Our Charismatic Leader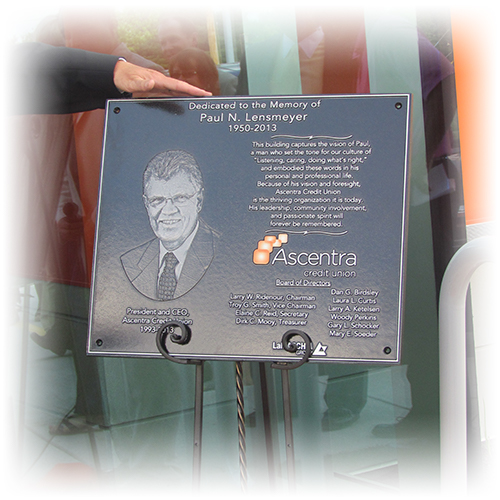 It was to be a day of celebration; the official ribbon cutting of our newest branch in Bettendorf. The ribbon cutting of Paul Lensmeyer's pride and joy was to take place on Monday, May 20th. Instead, that morning the staff was dealt a fierce blow as news of the passing of Ascentra's beloved leader spread.

Tears ran down people's faces, some wrote messages in his parking spot, others made orange ribbons and placed them around our branches, and one staff member made little orange ribbons and gave out to staff to wear at Paul's funeral. All these caring gestures are reflections of the manner in which Paul carried himself and the impact he made on all of us. Paul Lensmeyer was more than the President and CEO; he was a charismatic leader, a friend to many of the staff, a father figure and even "like a cooler older brother." He was the heart of the organization. We have mourned with the Lensmeyer family.
"Listening, caring, doing what's right" are words that were genuinely spoken by a man who lived and breathed this mantra in his professional and personal life. He instilled these beliefs into an organization that has made a difference in the lives of its members, staff, and the communities it serves. He set the tone for how we conduct ourselves professionally, but most importantly showed us that you can have fun while doing it. It was no surprise that Ascentra was voted one of the top places to work for in Iowa by a Des Moines Register poll conducted in 2011.

Paul transformed the credit union in many ways. When he joined our organization in 1993 we employed 51 people and served 15,001 members; our assets under management were $48 million. Today we employ 120 people, serve 30,995 and our total assets under management is $292 million. He knew what he wanted, and he positioned this organization in a course of continual growth.

Paul involved Ascentra in events that promote reading in partnerships with area libraries and schools by creating and sponsoring the Booker Bear Reading Challenge with the Pleasant Valley Schools District. Today similar reading initiatives take place with the Bettendorf, North Scott and Moline school districts. He always looked forward to meetings at the Iowa Credit Union League Offices in Des Moines for Community Business Lenders, the Iowa Corporate Credit Union, TMG Financial Services and others where he had the opportunity to interact with other credit union professionals. He also loved working with his Rotary Club, the various chambers of commerce, Bettendorf Library Foundation and the Scott County Regional Authority Boards just to name a few.
Today our newly constructed ninth branch stands as a testament of his accomplishments. It is a bold, efficient, socially conscious and even fun structure, and he had the pleasure of seeing its doors open for business. These traits are shared by this man of great vision and wisdom. Paul made a statement with his last big project; we are looking to the future, we are thinking about our community, we are looking to grow in a responsible manner, we are Ascentra Credit Union.

A huge Green Bay Packers fan, it's only fitting that we honor his legacy the way his team has immortalized their great coach Vince Lombardi. If we never forget the values Paul instilled, we will always be a winning team. And like any good leader does, he surrounded himself with great talent, each with strong skills and know-how to ensure that his mission is completed even in his absence.
While it shook us up, we are more determined than ever to make our leader of 20 years proud through our commitment to excellence. Our staff, management, and board of directors have risen to the occasion and will make sure we are still Listening, caring, doing what's right for years to come.