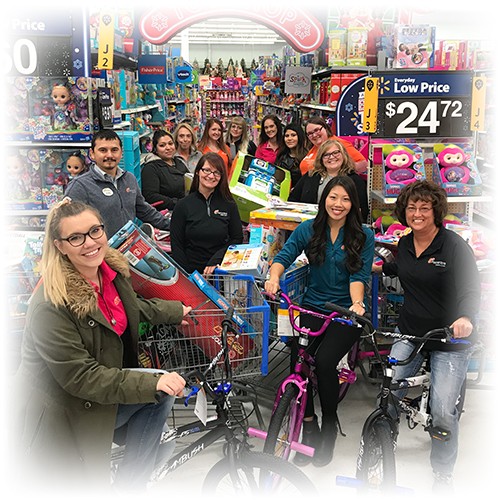 Every holiday season, Toys for Tots donation boxes fill each of Ascentra Credit Union's branches from Muscatine, Iowa to the Quad Cities and up to Clinton, Iowa. It is a tradition at the credit union that has led their staff to support the organization by raising additional funds through organizing a bake sale and donating $5 to dress Casual for a Cause, then using the proceeds to go on a toy shopping spree.
Beyond all of this, Ascentra wanted to help make an even bigger impact this holiday season. With their commitment of giving back to the community, they wanted to run an auto loan promotion that gives back to a local nonprofit organization and to their members in the areas they serve. Due to Ascentra's heavy involvement with Toys for Tots, it was a natural fit. They introduced a promotion that would give the Marine Corps Toys for Tots Program $50 for every new auto loan brought to the credit union while also giving $50 to the borrower.
However, while coordinating the details, Ascentra discovered that the Toys for Tots program in Clinton County no longer has an active coordinator. Many of Ascentra's employees were saddened to hear this news and didn't want to see kids in the area go without toys this holiday season. Passionate about finding a solution, a few of the employees did some investigating, but unfortunately found out that it was too late for Clinton County to have a Toys for Tots program this year.
While investigating, they heard about Holiday Network, a nonprofit organization that assists families in Clinton during the holidays with food baskets and toys. This is one of the many organizations stepping up to support the 1,500 children in Clinton that Toys for Tots previously supported. This news came like a holiday miracle.
"We're here, we're steppin' up and plan on trying to fill that void so no family or children are left without this holiday season," said Holiday Network volunteer and Director of the Clinton County Retired and Senior Volunteer Program Lynee Burken. "We just hope to make that difference for people."
Since the Toys for Tots program will not be in the Clinton area this year, Ascentra saw this as a great opportunity to partner with Holiday Network to spread the word and raise awareness that there is holiday assistance in Clinton this year. All of the money raised in the Clinton area from Ascentra's promotion will be given back to the Clinton community through a donation to the Holiday Network.
"We are overjoyed that families in need will get taken care of this holiday season," said Ascentra President and CEO Dale Owen. "We saw a bigger purpose for our involvement to make sure we inform the residents of Clinton that there is another partner in the area that can help in lieu of the current circumstances, and we hope that next year a Toys for Tots program in the area will be up and running again."
Deadline for turning in applications for the Holiday Network program is Nov. 9. Applications can be found at the Retired and Senior Volunteer Program office, 315 S. Second St. or at the Information, Referral and Assistance Services office, 415 S. Third St. Distribution of the donations will take place Dec. 12 and Dec. 13.