Steppin up with Random Acts of Kindness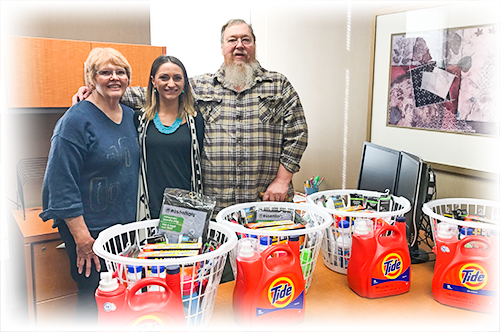 Every year Ascentra generously gives staff the opportunity to participate in our very own Steppin' Up program. This special program allots $50 to participating staff members to pay it forward and touch the lives of others by surprising people in the community with random acts of kindness.
In 2018, 126 of our staff gave out a total $6,300! A few of the organizations staff donated to include: Muscatine Humane Society, Bettendorf Outreach Program, Davenport West High School, Clinton Herald HUGS Program, Gigi's Playhouse, and many more.
Team Ascentra at our Muscatine branch (pictured) Steppin' Up for area students in need by partnering with Muskie Locker, a program started by a high school teacher that collects donations to provide necessary items for students.
Ladies at our Brady Street branch also in Davenport made care packages for our military deployed in Afghanistan.
This is just one of the many ways that Ascentra lives the People Helping People philosophy of the credit union industry!