2019 Excellence in Concrete Awards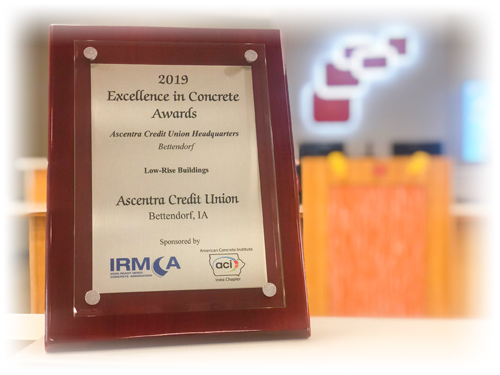 AMES, IOWA - The 26th Annual Excellence in Concrete Awards were announced on November 14, 2019, at a ceremony in Ames, Iowa. The Iowa Ready Mixed Concrete Association (IRMCA) and American Concrete Institute (ACI) Iowa Chapter hosted the awards luncheon during the Iowa Better Concrete Conference.

The Excellence in Concrete Awards recognize outstanding projects from throughout the state. Entries were judged on the following criteria: architectural design, engineering and construction challenges, complexity of project, uniqueness of project, workmanship, finished impression, and diverse application of ready mixed concrete.

LOW-RISE BUILDINGS CATEGORY

Ascentra Credit Union Headquarters, Bettendorf

Ready Mixed Concrete Producer: Hahn Ready Mix Company, Davenport
Owner: Ascentra Credit Union, Bettendorf
General Contractor: Russell, Davenport
Concrete Subcontractors: Centennial Contractors of the Quad Cities, Inc., Moline, IL
Architects/Designer: Legat Architects, Moline, IL
Engineer: Select Structural Engineering, Bettendorf

This building utilized composite steel beams to maximize the structural potential of the concrete slab and minimize overall construction cost. The use of this system allowed for an open floor plan with flexibility for the owner to modify the interior floorplan in the future. The lateral support of the structure consisted only of three CMU shafts present in one leg of the L-shaped building. Careful coordination and detailing of trades at interfaces (concrete and steel floor system to CMU walls and CMU walls to concrete foundations) was required to transfer the higher load patterns that would be generated. Complex combined footings were developed where possible that optimized the use of the building's weight. Five concrete mix designs were utilized in this project forming the parking lot and exterior walkways, footings & foundations, multiple interior floor mixes, and stair treads.