A Money-Making Idea: Sell Your Old Car Yourself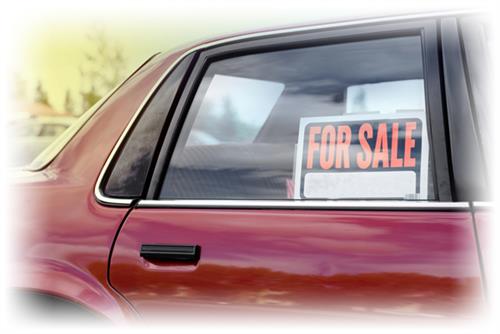 How hard do you work to take home a thousand dollars? That's how much you might throw away if you trade in your old car rather than sell it yourself. Follow these tips and, if you're lucky, you'll keep that thousand rather than hand it to the dealership.
Clean your car top to bottom. Fix or replace minor things like blown fuses and wiper blades.
Find out its "wholesale" value—that's all a dealership will give you for it. You can get a fair idea by checking online classified ads to see how much other sellers are asking for your type of car. You can also check Internet at sites like edmunds.com and kbb.com.
Set an "asking price" that's high enough to allow you to haggle: Add $2,000 to the wholesale price.
If you owe money on your car, call your lender for instructions about paying it off before you advertise it for sale.
Now that your car is looking great and running well, it's time to advertise it for sale. Online classified ads are great because of their wider reach. Here are some ways to advertise your car:

Websites such as AutoTrader.com, Cars.com, Craigslist.com, and eBay classifieds are the most popular. Craigslist and eBay classifieds are free—the others are not.
Use social media, like Facebook and Twitter, to let your friends know you are selling your car, and ask them to spread the word.
Message boards—many online car forums have classified sections in which you can list your car.
Word of mouth works well—tell your friends, co-workers and family.
Putting a "For Sale" sign in the car window can be an effective way to sell it.

Use common sense with any stranger who wants to drive your car before making an offer: Check the person's driver's license; write down the tag number of the person's car.
Become a salesperson: Talk up your car's good points. Has it been dependable? Have you kept careful maintenance records?
Don't talk trade or finance. And don't come down off your asking price too quickly. If you've marked up your car $2,000, come down in increments of $50 or $75. And remember: Any amount you receive above your car's "wholesale" value is extra profit to you.
Don't accept personal checks. Insist upon a cashier's check or cash.
Selling a car yourself rather than trading it in takes work and patience. And your chances of success aren't 100 percent. But thousands of people do it every week, and do it successfully. And wouldn't that extra thousand or so come in handy?

If you are in the market for a new vehicle, learn more information about what Ascentra has to offer by visiting our Vehicle Loans page.