The Lincoln Center - The Mission
Jul 31, 2023, 16:14 PM
Title :
The Lincoln Center - The Mission
Video CTA :
Date published :
Feb 16, 2022, 00:00 AM
I guess the easier question is what is it not about, right? Because we have so much going on under our roof. We were committed from the beginning on making this the hub for the African-American community and anything that the community needed, whether it be resources, services, programs, events. It was going to happen here at the Lincoln Center. That's what we were determined to do.
And so we committed to filling this space up with black owned businesses, nonprofits and organizations. So we started out small and like I said, work with what we had. But in a year, we have progressed. So much things that are happening now I was not expecting to happen for two or three years. So we just adapt and adjust and keep going with the momentum that we have.
Pena's Boxing Club has existed in our community for over 60 years, and so they have a whole downstairs. And every day he gets about 40 kids down there Azubuike was the first artist that we had come in and take over a space and really make it her own. And then since then, we've had two more artists come
We have theater production and acting classes, afterschool programing, a community garden ministry who during the winter they plant your seedlings in greenhouses, and then in the spring they go out and plant them around the community. Our YAP program will be housed in here. We also have our Blessing Box, which is a nonprofit that collects household items that go out to families through the food pantry.
We have a couple of artists that do like the sip and paint and maternity bellies and skincare and cosmetics, LOVE Girls Magazine is in here. They do a lot of mentoring to young girls in our community with writing and photography and podcasting. We have two fitness studios and a photography studio. We have an event planner in here and we have two dance programs.
We have our plans for a food pantry We have our plans. That will happen sooner than later for our business center and a community meeting room. We have partnerships with Palmer and with Genesis for a walk in clinics and outreach clinics. Right here in the building. We have a library that will give out free books so that we can start attacking those literacy numbers that are affecting the black community.
We have programs that work with effective black parenting and business acceleration to help everyone get better. I want our businesses to get to the point where they've outgrown this space, because then that means we've done our job here at the Lincoln Center and that they do move on so that we can get other businesses in here and start that same process with them.
So at any given day, we have approximately a hundred kids that are in the building, whether they're at the boxing club, whether they're at dance practice or training for basketball or at the after school program. What we're doing here at the Lincoln Center is no excuses. If you need board members to diversify your board, we have a board training and leadership development course.
If you have kids, if you have a position to open for kids, we have a hundred kids in here that we can get jobs for Our mission is so simple, but is so impactful at the same time to empower and educate our youth, our families and our community.
We aren't always at the table. We're not. And that's just a fact. And so I if I couldn't place us at the table, then we were just going to get our own table and make our own plans and create for our own people. The reality is in the Quad Cities, the black community is only 11% of the population.
So a lot of times in class, on a team, in a store, you're going to be the only black person. And that gets exhausting at times. So if us opening our doors at least gives them a moment to breathe a moment to just be a moment to not feel like you're being judged just because of the color of your skin, then we've done our job.
We're in central Davenport, where within a mile radius, there's no grocery store, there's no convenience store, there's no gas station, there's no ATM machine. There's no medical facilities. There is nothing in this neighborhood. So we knew because of where we are located that we have to be a resource for the people that live right here, that if they walk in through that door and they need food, they need health care, they need tutoring assistance, they need help filling out a job application.
They need clothes. That we have to be able to provide those things for this neighborhood. I was stopped in the middle of a tour one time, and the person said, so is this just for black people? No, it's not just for black people. When we get 100 kids in here, they're white, they're black, they're Mexican, they're everything. Just know what the focus is when you walk in the door and the focus is on the black community.
But at the same time, I'm a big proponent of education and engagement creates understanding I talk to these kids and they have the same dreams and the same goals as anybody else. But at the same time, their circumstances, adults could not deal with a lot of the things that they have to deal with. Our goal is to create this home for our youth that they can go from basketball practice to the boxing club, that they can go from art class to dance class, that they can take an acting class because we are creating that space where anyone can walk through the doors, but we want to make sure they understand.
The focus is on educating and empowering our youth, our families and our community. And if we can do that, we make for a greater Quad Cities at the end of the day. We wouldn't be talking about it if it wasn't a need, right? We are in a crisis right now. There's no other way to put it. The black community is in a crisis right now, and nothing changes if nothing changes.
So we have to approach it differently. The community has to approach it differently. Good things should not just happen to a certain segment of people. Good things happen to everybody. And there are achievement gaps, there are academic gaps, but that comes from lack of opportunity. That opportunity is not always there for people of color. Whether it's intentional or unintentional, whether it's systemic or just on chance it's just not always there.
There was a great light shined on the two Americas after George Floyd. There's a black America and then there's America. And things that were happening in Chicago in Atlanta, in Minnesota, were actually happening right here in the Quad Cities. So we had to get comfortable being uncomfortable and having these difficult conversations about the challenges that our black community is facing right here in the Quad Cities. When it comes to education, when it comes to income, when it comes to health when it comes to wealth building, nothing was being done on this level. Things that were happening here in the Quad Cities, grants for buildings and grants for programs, and these things were being thought about, created and funded without one black person sitting at the table giving their input on what they felt should be within our region. You know, we're not asking for anything more.
We're asking for just what we should have, which is a safe space for our kids and our families and our community to feel like they have a space here in the Quad Cities. So with the Lincoln Center, I think that this was an opportunity to start bringing the black community together and saying, Okay, we have this space we we have a mission, let's work together. If you give us a chance, we will definitely make a difference. Not just in the black community in starting to change that narrative and working towards tearing down the systemic issues that have been going on for years here in our community and start building that community back up. But by doing that, then the Quad Cities becomes that welcome, inclusive and diverse community.
So come through these doors, understand why this is a black founded, black led organization. Understand why we have black businesses, organizations and nonprofits in here. Understand why we are so focused on helping the black community. And once you understand that because you've engaged with us, because you've learned things while you're in here, then it makes you more understanding and more willing to help the cause.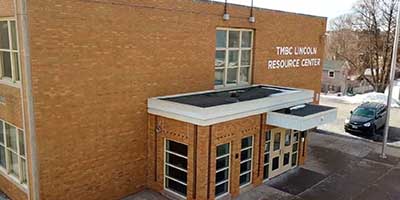 Related pages :