A Major Upgrade to Your Digital Banking is Here!
Our new digital banking platform is officially live and ready for you to use. Learn about this new experience, watch video tutorials on how to log in, and find out how to make the most of your digital banking.
If you need help throughout this process, you can reach us by clicking the "Let's Talk!" button in the bottom right hand corner of the page, through Facebook messenger, or by calling us at 563-355-0152 ext. 5.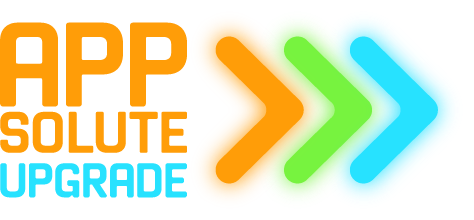 First, let's understand a few items that make this new digital banking platform different:
The old platform revolved around accounts, and not the individual member.

This means if you are the primary account holder, and your joint account holder needed access to the account, you needed to share your User ID information for that account – not ideal. This also meant you may have had multiple accounts and therefore needed multiple User IDs and passwords.

The new platform revolves around the individual based on their Social Security Number.

This means the primary account holder will have one

User ID

and will be able to see all accounts they are authorized to see. A joint owner will have their own

User ID

and will only see accounts they are authorized to see. There will be one User ID for each member (each Social Security Number/Individual Tax Identification Number), instead of each account. Based on this, you may see more or less accounts than you did in the old system.

In the new digital banking platform you get a unified experience across all devices

, whether you are logging on via your computer or through the Ascentra Mobile app. This means the look and feel will not change and the services available on desktop will be exactly the same for the app. You never even have to log into your computer if you prefer to do everything through the app.

Other Important Info You Need To Know
Logging in for the first time (after the upgrade)
Go to the app store and download the new Ascentra Credit Union Mobile App. Once downloaded, please delete the old app. You can also log in through your computer by clicking "Login" in the upper righthand corner. Supported browsers are Chrome, Edge, FireFox, and Safari.
If you already had an account in Online Account Access, and have used it within the 6 months prior to Sept. 23 you will use your existing User ID and password to log in on to the new Digital Banking system. You will be prompted to change your password when you first log in. It is not recommended that you share login information with another user/owner of an account.
If you are a joint account holder, without a primary account of your own, you will log in using the current primary account holder's User ID + the last four digits of your Social Security Number, and the password that you were using in the old platform.
If you have not logged in to Online Account Access in the past six months prior to the upgrade, your Online Account Access is considered inactive and you will need to re-enroll for Digital Banking. Click "Enroll" in the upper right hand corner.

There are video tutorials below to help guide you through this process.
Ascentra CU Mobile App
The new Ascentra CU Mobile App for smartphones and tablets and is available for you to download from the App Store or Google Play Store.

The new Ascentra CU Mobile App for Android, iPhone, and iPad gives you full access to all the setting and preferences available on the desktop version. In fact, since you will have access to the Mobile Check Deposit, it technically has more features!
Pay Bills

Pay Bills is a section located under the "Transactions" menu. From there you will be able to manage bills and add billers just like members did with MyBillPay prior to the upgrade. If you had MyBillPay set up prior to the upgrade, all your billers and scheduled payments should have transferred over.

Financial Tools

View your all your banking, credit cards, investments, and other financial information all in the Financial Tools section of our Digital Banking. Financial Tools replaced My$Manager which means that any notifications set up within My$Manager have ceased. You can set alerts and notices in the "Settings" section, under "Manage Alerts".
Alerts

Alerts that were set up on Online Account Access, did NOT transfer over to our new system and will need to be set up again. The new Digital Banking platform offers even more alert options.

PayUp

PayUp is a free person-to-person payment service for debit card holders which allows you to quickly and securely send money from Digital Banking.

Splitting the cost of lunch with a friend? PayUp! Need to pay your babysitter but don't have cash? PayUp!

Just log into Digital Banking, click on "PayUp Person to Person" under "Transactions" and start typing in the name of the recipient. PayUp will automatically insert their phone number if they are a contact in your phone. Super convenient!

You can even repeat your transactions so you don't have to start over every time your friend buys you a coffee. Best of all, this service is free!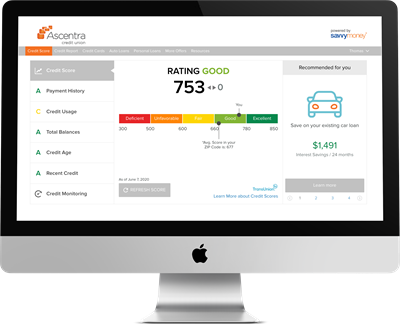 SavvyMoney
Keep an eye on your credit score and credit report changes with real time credit monitoring with
SavvyMoney
, a service that is available to our Digital Banking users.
Stay on top of your credit score by refreshing your score every day. Qualify for best rates on new loans, credit cards, or refinance based on your credit score.
I
mportant Dates & Services Changes
Old Platform Vs. New Upgrade
Here is what a family will see when logging in to the new Digital Banking platform that revolves around individual members (Social Security Number/Individual Tax Identification Number) compared to the previous Online Account Access which revolved around account numbers.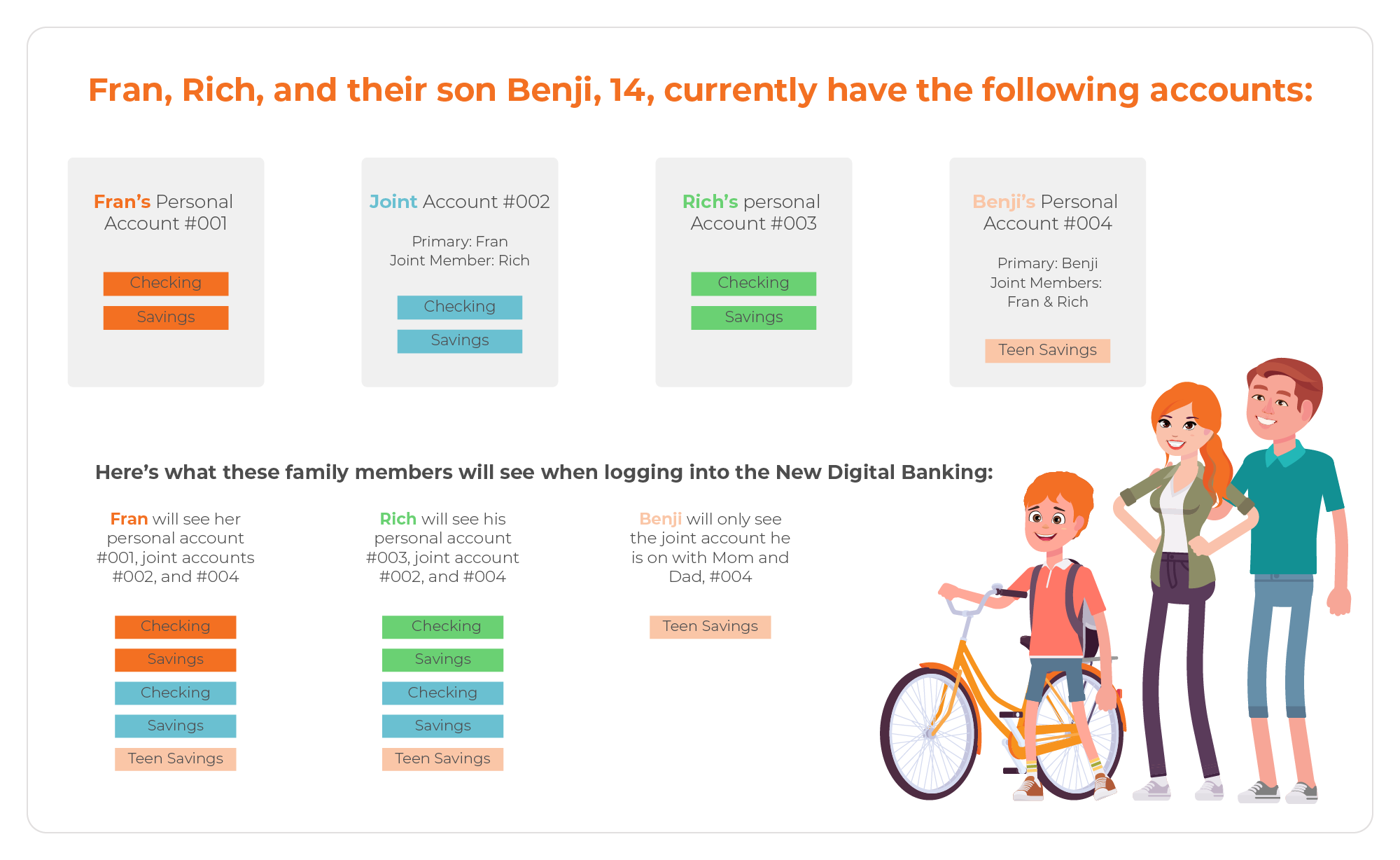 Understanding Account Roles & Authority:
Primary Account Owner
This individual is listed first on the account and on your statements, and is the one that qualifies for credit union membership.
If an account only has one owner, it is referred to as an Individual Account.
If an account has more than one owner, only one person is the primary, the others are considered joint owners (see description below).

Joint Account Owner
A joint account owner is an individual that shares equal ownership of the account.
A joint account owner may withdraw or transfer funds, stop payment, etc. without consent of the primary account holder.


It's important to note that the Primary Account Owner and Joint Account Owner have the same ability to view and transact on behalf of the account (depending on account type). Also keep in mind that any credit cards and loans associated with an account will also be viewable by all account owners.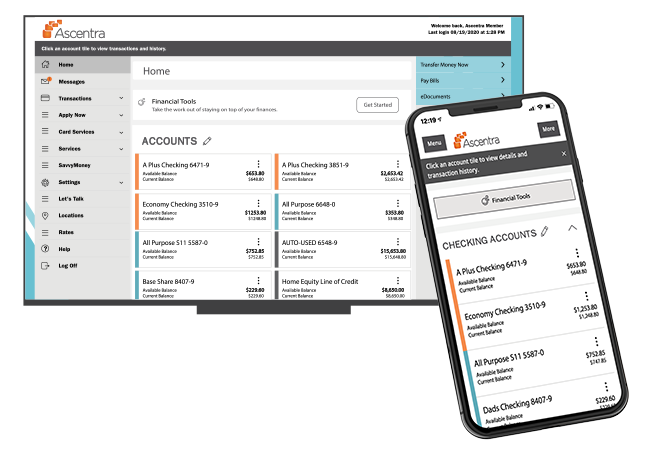 Video Tutorials
Logging in for active online banking users who have logged into Online Account Access or MyMobile in the last 6 months. Watch how to log into the new banking platform.
Consumers (primary and joint account owners), Sole Proprietorships, Trusts and Estates.
Representative Payee, UTMA, Conservatorship, or Fundraiser Accounts.
Corporation, LLC, Partnership, Organization, or Nonprofit Accounts.
Account Information and Alerts